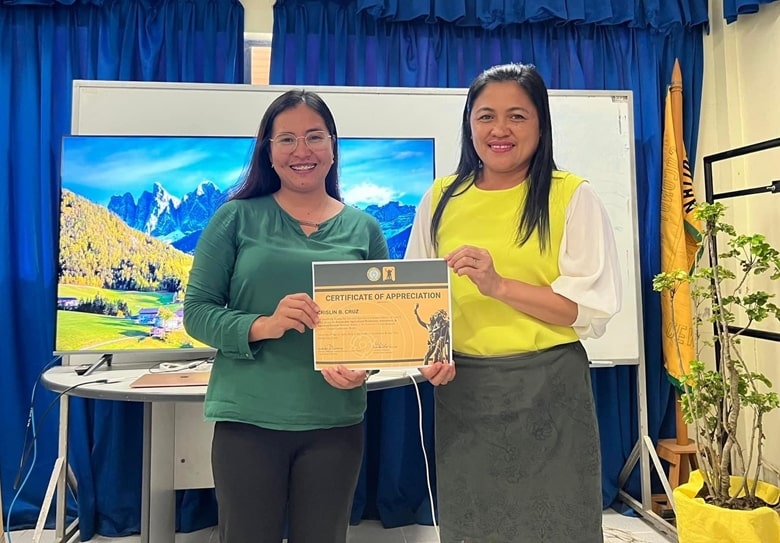 (L-R) Ms. Crislin B. Cruz, LevelUPHEI AFAR grantee and Dr. Marisel A. Leorna, NCRC-Visayas Director
Ms. Crislin Cruz, a grantee-participant of the Leveling-Up Philippine Higher Education Institutions in Agriculture, Fisheries, and Natural Resources (LevelUPHEI AFAR) project organized a hybrid seminar series on sustainable agricultural production, assessment, and agri-food systems. Ms. Cruz, faculty-researcher at Visayas State University (VSU), led the event on 5 April 2023.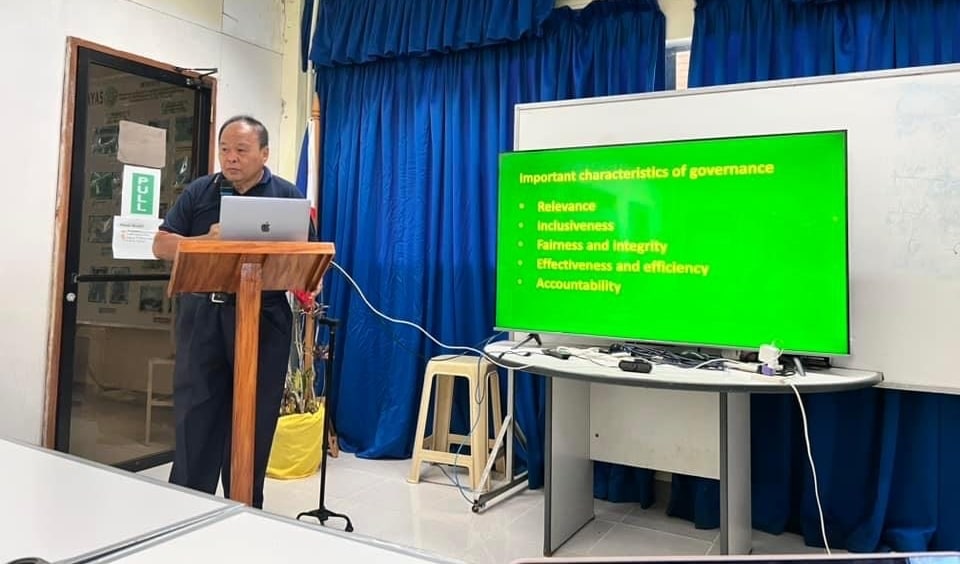 Dr. Jose L. Bacusmo, former VSU President and Baybay City councilor.
The hybrid seminar series conducted with the National Coconut Research Center-Visayas (NCRC-V), saw over 40 participants from VSU faculty members, researchers, farmer beneficiaries, and students. Ms. Cruz invited Dr. Jose Bacusmo, former VSU president and Baybay city councilor, to discuss the role of good governance in sustainable agricultural production. Dr. Bacusmo outlined the essential attributes of effective local governance: relevance, inclusiveness, fairness, efficiency, and accountability. He emphasized the importance of transparent and ongoing communication between the local government, farmers, entrepreneurs, and markets to ensure a consistent supply of high-quality and reasonably priced produce. Moreover, he also stressed the critical need for inclusive and participatory governance.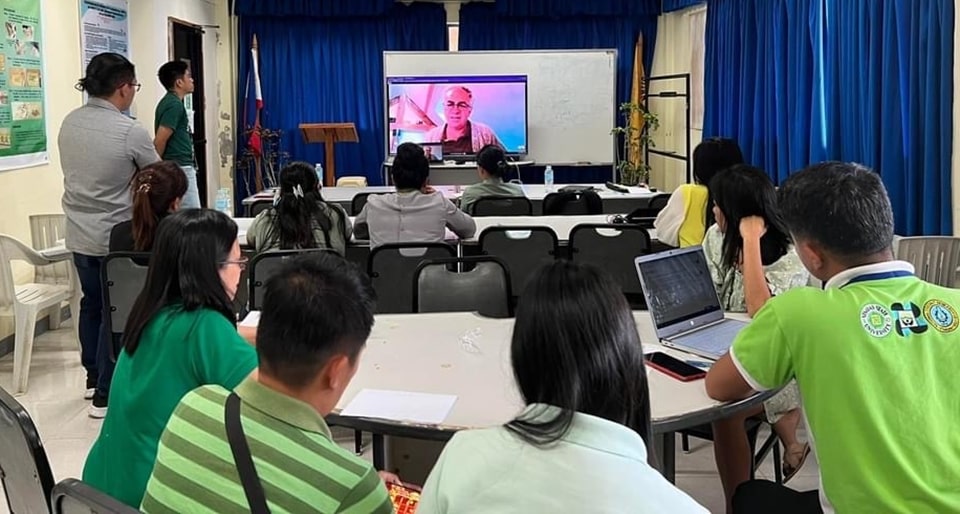 Dr. Christophe Lesueur, Manager of the Institute for Higher Education in Tropical and Sub-tropical Agri-food Sciences of Agro Montpellier Institute in France.
Dr. Christophe Lesueur, manager of the Institute for Higher Education in Tropical and Sub-tropical Agri-food Sciences of Agro Montpellier Institute in France, joined the learning event online and talked about France's sustainable agriculture practices, impact assessment approaches, and changes toward sustainable agri-food systems. France utilized a participatory approach by creating schools and education systems to provide technical assistance and to showcase the latest scientific innovations to farmers.
Ms. Cruz also shared the challenges in assessing agricultural sustainability. After introducing sustainable development concepts, she drew attention to the challenge of addressing present needs while safeguarding future generations' requirements. Toward the end of her presentation, she introduced the SAFA (Sustainability Assessment of Food and Agriculture Systems) guidelines, created by the United Nations' FAO, as a valuable tool for evaluating agricultural sustainability.
The hybrid seminar series is part of Ms. Cruz's re-entry action plan, in line with her attendance at the Training-Workshop on Sustainability Assessment in Agricultural Production and Food Processing from 15–25 May 2022, at Krabi, Thailand. Kasetsart University (KU) in Thailand and L' Institut Agro of France organized the said training-workshop to equip the participants with capacity for sustainability assessment and to build their skills in data collection, survey, observation, investigation, and interview.
The Southeast Asian Regional Center for Graduate Study and Research Center in Agriculture (SEARCA) supported Ms. Cruz's participation to the training-workshop through the LevelUPHEI AFAR project with funds from the Philippine Commission on Higher Education (CHED). This project aims to upgrade the institutional capacities of the State Universities and Colleges-Association of Colleges of Agriculture in the Philippines, Inc. (SUC-ACAP, Inc.) and its 75 members through participation in activities organized by the Southeast Asian University Consortium for Graduate Education in Agriculture and Natural Resources (UC) and its member universities. VSU is both a member of SUC-ACAP and UC.
All LevelUPHEI AFAR grantees from SUC-ACAP develop their re-entry action plans and execute them toward contributing to their home institution's development. SEARCA continuously offers grants through the project for mobility, research, benchmarking, internationalization activities, and attendance to training, workshops, conferences, and seminars.