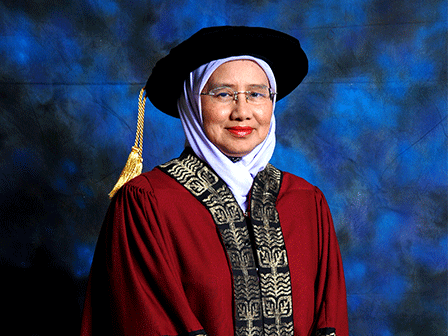 PUTRAJAYA - Prof. Datin Paduka Dr. Aini Ideris has been appointed as the new Vice-Chancellor for Universiti Putra Malaysia (UPM) for a duration of two years, effective January 1, 2016 until December 31, 2017.
Prof. Datin Paduka Dr. Aini, who is the Director of UPM Corporate Strategy and Communications Office, replaces Prof. Dato' Dr. Mohd Fauzi Hj. Ramlan whose tenure as UPM Vice-Chancellor ended on December 31 last year. She received her formal letter of appointment from Higher Education Minister, Dato' Seri Idris Jusoh.
Prof. Datin Paduka Dr. Aini Ideris expressed her gratitude to Prof. Dato' Dr. Mohd Fauzi Hj. Ramlan for his leadership qualities and contributions towards UPM while he was the Vice-Chancellor, saying under the latter's tenure, the university had succeeded to maintain its excellence as a leading university at both the national and international levels.
"I also want to express my gratitude to Dato' Seri Idris Jusoh for the trust, opportunity and mandate given to me to continue with the legacy to give the best of services to the university.
"With this appointment, I will strive harder to enhance UPM's achievements as a leading research university in order to steer and bring the image of the country to a higher level, in addition to continuing with the efforts for more successes and academic excellence amidst the challenges, particularly the need for a paradigm shift in enhancing the quality of the nation's agriculture sector," she said.
Formerly UPM Deputy Vice-Chancellor (Academic and International) from December 2008 to November 2013, she was instrumental in the preparations for the university's SWA Accreditation, autonomy and other curriculum-related improvements as well as teaching and learning at UPM.
With her vast knowledge in dealing with issues at both the national and ministerial levels, she has held various positions in the past, including the Deputy Vice-Chancellor Committee Chairman/Rector (Academic and International) of IPTA from January 2012 to 2013, chairman/member in various other committees at the Higher Education Ministry/ Education Ministry, Science, Technology and Innovation Ministry and the Agriculture and Agro-based Industry Ministry.
Prof. Datin Paduka Dr. Aini Ideris is a renowned scientist in detecting and controlling avian diseases through the commercialization of a "Newcastle" vaccine in 1995 and "fowl pox" culture tissues in 1996 which had penetrated the market in nine countries.
In 2005, she was involved in a joint research in the commercialization of an important vaccine for chickens to fight against contagious bursal diseases. Her team of researchers also developed several diagnosis kits for fast detection of avian influenza (bird's flu which is a zoonotic disease), 'Newcastle' and 'Mycoplasmosis' diseases.
In 2011, Prof. Aini received the National Academic Award (Anugerah Akademik Negara (AAN) 2010 under the Innovation and Product Commercialization category for her success in the innovation and commercialization of 'Newcastle' disease vaccine (ND V4-UPM).
She was also named as one of 10 researchers for Anugerah Inovasi Negara 2012, Anugerah Alumni Terbilang UPM 2012and was announced as 2013 Malaysia Best Research Scientist.
The climax of her success was in 2013 when she was absorbed to be an inaugural member of Honour of the World Veterinary Poultry Association, the most prestigious achievement in scientific, training and health teaching on avian as well as leadership community in developing nations.