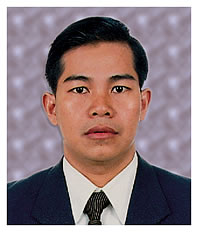 05Another Tokyo University of Agriculture (TUA) - SEARCA Scholarship for Doctoral Dissertation was awarded, this time to Mr. Ou Ratanak from the Kingdom of Cambodia. Mr. Ratanak is the deputy director of the Biodiversity Office, Department of International Convention and Biodiversity of the Ministry of Environment.
Through the TUA-SEARCA Scholarship, Ratanak can complete his dissertation at TUA within three yearswith the guidance of Dr. Misuhiro Terauchi, his main adviser. His research will focus on the impact of eco-tourism on the local community livelihood as well as biodiversity conservation in Cambodia.
With the popularity of Siem Reap and Angkor Wat among other destinations in the country, the eco-tourism sector of Cambodia is one of the growing sectors in the country. With such a backdrop, this study can help establish and enhance the policy support for livelihood development and conservation of biodiversity in the country, according to Ratanak.
The TUA-SEARCA Doctoral Dissertation Scholarship is open to all SEAMEO member countries. The qualified applicants must:
Be a researcher with full-time employment at the university or research institution.
Be a holder of a master's degree in agriculture or related fields.
Have produced at least two peer-reviewed scientific papers in scholarly journals at home or abroad and have served as first author of at least one of those papers.
Have already made a substantial progress in a research project which will deserve a doctorate degree in three years.
Not be more than 48 years of age at the start of the program.
Details about the scholarship grant can be found at SEARCA website at http://www.searca.org.