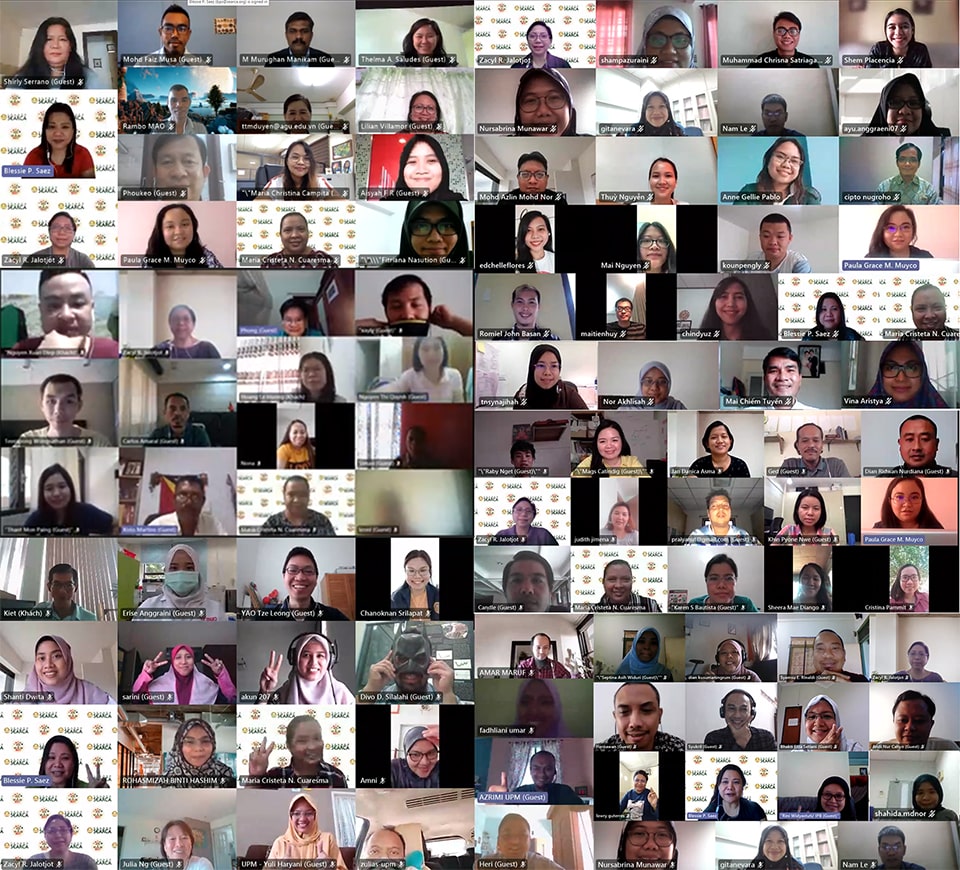 SEARCA scholars across all study posts together with scholars from joint projects during the virtual hangout.
The Education and Collective Learning Department (ECLD) of SEARCA conducted a virtual hangout with the scholars through the Graduate Scholarship and Institutional Development Unit (GSID). Despite communicating regularly through emails and other online messaging applications, SEARCA would like to situate its scholars given the challenges to their graduate studies in this new normal.
Six sessions were held on April 19, 20, 23, and 26 for the full MS/PhD scholars studying at the University of the Philippines Los Baños (UPLB), Universiti Putra Malaysia (UPM), Universitas Brawijaya (UB), IPB University, Universitas Gadjah Mada (UGM), and Kasetsart University (KU). Altogether, 104 scholars attended the virtual meetings, including those from the joint scholarship projects with the German Academic Exchange Service (DAAD), National Taiwan University (NTU), Tokyo University of Agriculture (Tokyo-NODAI), Bulacan State University (BULSU), Nagoya University (NU), Malaysian Agricultural Research and Development Institute (MARDI), Agropolis Fondation-UPM, and the Philippine Carabao Center (PCC).

Part of the program was an introduction about SEARCA and a discussion of the 11th Five Year Plan on ATTAIN.
Dr. Maria Cristeta N. Cuaresma, Program Head of ECLD, introduced SEARCA and the 11th Five Year Plan of Accelerating Transformation through Agricultural Innovation (ATTAIN) at the start of each meeting. There were also online games in lieu of the face-to-face ice breaker activities usually played during the pre-pandemic meetings. The scholars also discussed their concerns regarding the effect of pandemic restrictions to their graduate studies.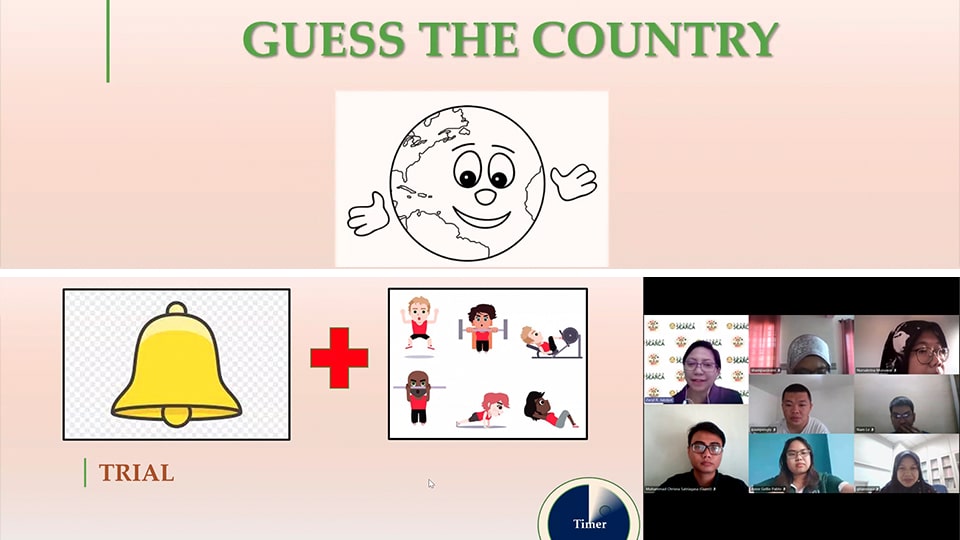 GSID hosted fun online games for the scholars during the virtual hangout.
This is the second time for GSID to conduct a virtual hangout with the scholars. Originally, SEARCA visits the different study posts in-person to meet them together with the alumni. SEARCA recognizes the unprecedented circumstances of the new batch of scholars and is keen to provide support for their unique challenges. Previous activities for the scholars have been repackaged online while additional virtual offerings have been developed through the SEARCA Online Learning and Virtual Engagements (SOLVE) platform.