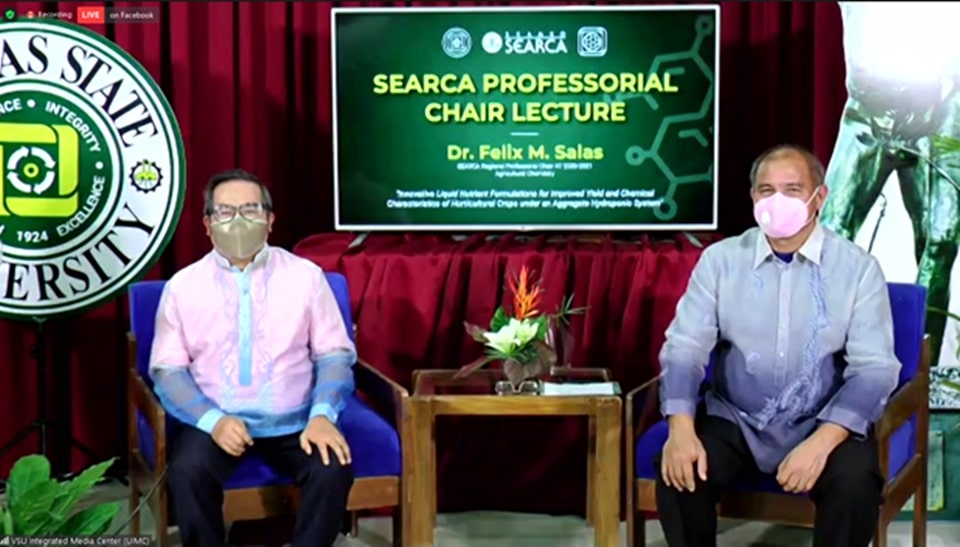 Dr. Felix M. Salas (L), SEARCA Regional Professorial Chair Awardee and Prof. Jacob Glenn F. Jansalin (R), Head, Department of Pure and Applied Chemistry, Visayas State University. Dr. Salas conducted his public lecture while Prof. Jansalin served as moderator.
Dr. Felix M. Salas from Visayas State University (VSU) was awarded the SEARCA Regional Professorial Chair Grant in 2020 for his excellence and contribution in the field of Agricultural Chemistry. Currently, Dr. Salas is a Professor II at the Department of Pure and Applied Chemistry, College of Arts and Sciences.
As part of his Regional Professorial Chair Grant, Dr. Salas conducted his public lecture on 26 February 2021 at Visayas State University which was streamed online via Zoom. He discussed about "Innovative Liquid Nutrient Formulations for Improved Yield and Chemical Characteristics of Horticultural Crops under an Aggregate Hydroponic System".
Dr. Salas introduced hydroponics and shared its benefits such as reducing the problems encountered in conventional planting of crops. Hydroponics also offer optimal conditions for plant growth and it has higher yields compared to open field agriculture. His presentation provided helpful information on the different sources of organic nutrient solutions.
Dr. Salas encouraged the online viewers to practice hydroponics especially for horticultural crops. According to him, vegetable consumption must be advocated for good health and wellness. It is also important that everyone understands the nutritional and economic benefits of vegetables. In line with this, Dr. Salas recommended that funding agencies should prioritize investment in vegetable research and development. He also reiterated that the availability of liquid nutrient formulation (LNF) does not solve food scarcity and hunger, but it is in the application of LNF for growing horticultural crops via aggregate hydroponics that could contribute to mitigating these issues.
Dr. Salas closed his presentation by motivating viewers to "just adopt-to-thrive by doing it ourselves."
Since AY 2012-2013, SEARCA has awarded 44 Regional Professorial Chair Grants in line with its mandate of bringing agriculture and rural development in the region by developing next generation leaders and professionals. The grant recognizes the contribution of individuals in agriculture and related sciences. Previous Visayas State University professors who were awarded the SEARCA Regional Professorial Chair Grant include Dr. Rotacio S. Gravoso and Dr. Zenaida C. Gonzaga in 2018-2019, Dr. Edgardo E. Tulin in 2017-2018, Dr. Victor B. Asio in 2014-2015, and Dr. Annabella B. Tulin in 2013-2014. Visayas State University recently became an Affiliate Member of the Southeast Asian University Consortium for Graduate Education in Agriculture and Natural Resources where SEARCA serves as Secretariat.
SEARCA, in its 11th Five Year Plan, will be awarding individuals in the field of Agricultural Technology/ Innovation or to those with outstanding contributions to policies on Agripreneurship, applied towards the Center's seven (7) priority areas.