Dr. Muhammad Reza Cordova, SEARCA alumnus, shared his study on macro and microplastics debris in Indonesian water during the Special Graduate Seminar on 24 September 2021.
The Education and Collective Learning Department (ECLD) conducted a Special Graduate Seminar on 24 September 2021 with Dr. Muhammad Reza Cordova sharing his dissertation on macro and microplastics debris in Indonesian water. The online seminar was conducted under the SEARCA Online Learning and Virtual Engagement (SOLVE) platform.
Dr. Cordova is a SEARCA alumnus under the Tokyo NODAI-SEARCA Joint Scholarship. He recently earned his PhD in Aquatic Bioscience at Tokyo University of Agriculture (Tokyo NODAI).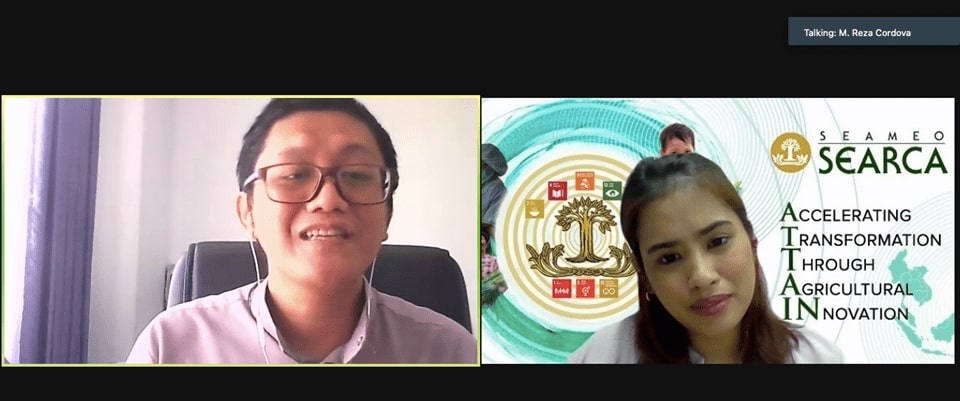 Outstanding SEARCA scholar awardee shares his passion for saving the Indonesian waters
Dr. Cordova talked about the inflow of riverine plastic debris and the quantification and identification of microplastics in the marine ecosystem. Based on his study, single-use plastics such as Styrofoam dominate the microplastic debris found in Jakarta's riverine outlets. The onset of the pandemic resulted in the presence of personal protective equipment (PPE) and similar land-derived debris. Various sizes and shapes of microplastics were present in the water surface, sediment, and marine organism. These microplastics were higher in areas closer to the land where the debris originates.
Based on the results of the study, Dr. Cordova recommends further understanding of the source, pathway, the ecological, societal, and economic impact of marine debris using long-term monitoring data. There is also a need to investigate the impact of microplastics on fish and macrobenthic invertebrates. Further research would also help Indonesia address plastic pollution.
Besides his research results, Dr. Cordova also shared his journey as a SEARCA scholar and his experience when the pandemic hit towards the end of his studies. His interest in plastic wastes in rivers and bridges started in 2004 which culminated in his PhD journey in 2015 and a dissertation on the current conditions and problems besetting macro and microplastics debris in Indonesian waters.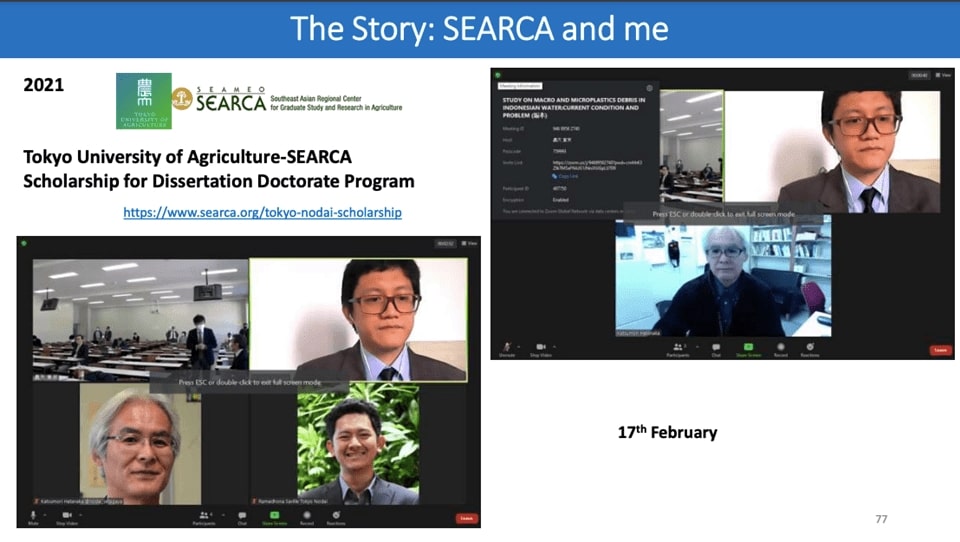 Dr. Cordova also shared his journey as a scholar until he earned his PhD in Aquatic Bioscience at Tokyo University of Agriculture (Tokyo NODAI).
Dr. Cordova is a prolific researcher, publishing eight (8) articles in scientific journals and contributing to books and other academic publications during his studies. He also worked on the Guidelines for Harmonizing Ocean Surface Microplastic Monitoring Methods which was published by the Ministry of Environment in Japan. Dr. Cordova was part of the Indonesian Institute of Sciences research team that received the Hitachi Global Foundation Asia 2020 Best Innovation Award and a runner-up to the Berita Satu's People and Innovation Award 2020 in Science and Technology. Because of his accomplishments during his studies, SEARCA awarded him as the Outstanding PhD Scholar for AY 2020-2021 during the Testimonial Program for SEARCA Scholars held on 12 August 2021.
Today, Dr. Cordova is a researcher at the Research Center for Oceanography, Indonesian Institute of Sciences. His research interests include distribution, temporal and seasonal variations, dynamics, associations with other types of pollutants and their impacts, as well as solutions to problems of marine litter, ranging from large size waste to microscopic size, e.g., micro and nano sizes, and heavy metals. Dr. Cordova also has experience as a lecturer in several universities in Indonesia and industrial experience as an environmental impact assessment consultant and evaluator. He disseminates his research results to mass media such as the television, radio, and newspapers in Southeast Asia to bridge research, the government, and the public.
SEARCA's Special Graduate Seminar is held once every semester and highlights outstanding research by scholars from their graduate thesis. Hosting the seminar is the Center's way to support the scholars' academic milestones and to recognize their capacity to produce quality research that has a great impact on agriculture and rural development.