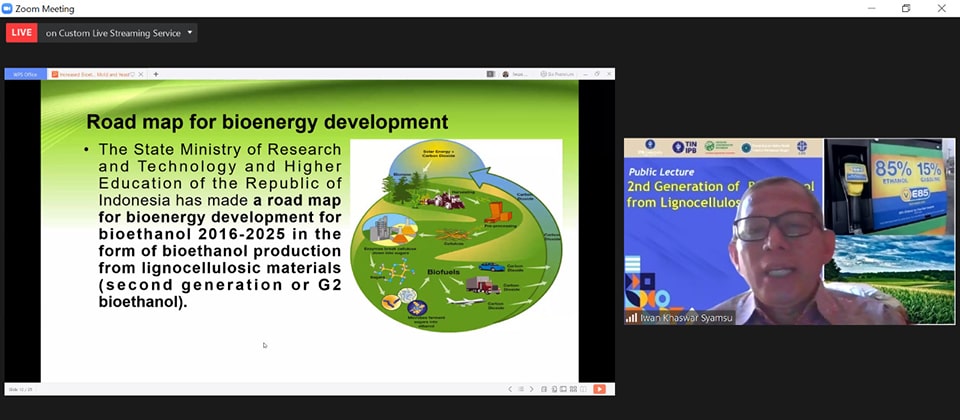 IPB University Professor delivers his Professorial Chair Public Lecture
Dr. Khaswar Syamsu, University Professor at IPB University in Bogor, Indonesia, delivered his SEARCA Regional Professorial Chair public lecture about "Increased Bioethanol Production Directly from Sweet Sorghum Bagasse using Mold and Yeast" on 6 July 2021, via Zoom platform.
Dr. Syamsu discussed the importance of alternative renewable energy sources, as well as its compliance with the Indonesian Government regulation regarding the provision of use of alternative energy. In his presentation, he mentioned that bioethanol as biofuel has a relatively high production cost than petroleum fuel. With his research, he studied and introduced the production techniques of bioethanol from sweet sorghum bagasse using the mold and yeast through Engineered Simultaneous Saccharification and Fermentation or SSF. According to Dr. Syamsu, the Engineered SSF method resulted to increase in bioethanol production at low cost with higher yield and productivity. Dr. Syamsu ended his presentation with his plan to continuously conduct research to find innovative techniques to produce low-cost bioethanol.
Dr. Khaswar Syamsu was awarded a SEARCA Regional Professorial Chair for Academic Year 2021-2022 for his contributions in the field of Agricultural Technology and Innovation. Dr. Syamsu is currently the Head of Bioprocess Engineering Laboratory of Biotechnology Research Center and Bioindustry Division of IPB University, Indonesia. For the past five years, Dr. Syamsu has published more than 60 articles as lead or co-author in scientific journals, and with numerous patents for developed technologies. He was also recognized, for five consecutive years, by the Business Innovation Center established by the State Ministry of Research and Technology of Indonesia, for his innovative projects.
Since AY 2012-2013, SEARCA has awarded 47 Regional Professorial Chair Grants in line with its mandate of bringing agriculture and rural development in the region by developing next generation leaders and professionals. The grant recognizes the contribution of individuals in agriculture and related sciences.