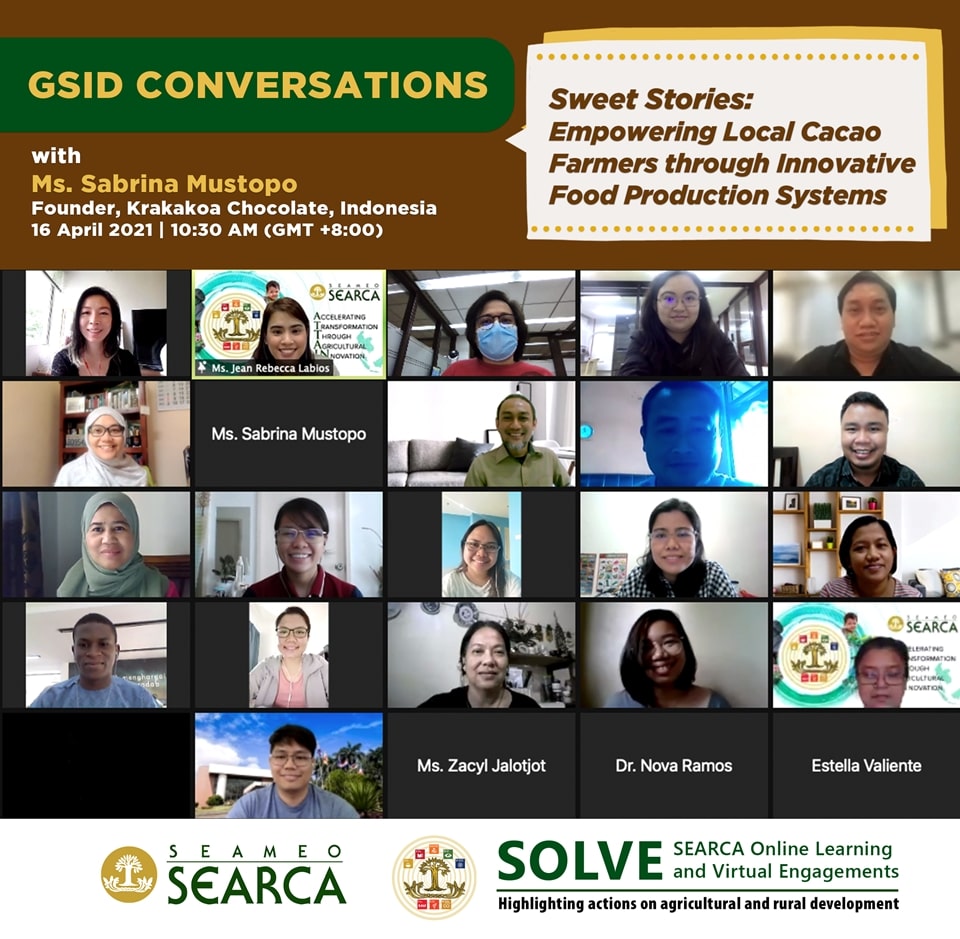 ECLD successfully hosts the 1st GSID Conversations for SEARCA scholars and UC grantees
The Education and Collective Learning Department (ECLD) of SEARCA shared the sweet story of local cacao farmers in Indonesia inside an integrated "farmer-to-bar" chocolate company. Ms. Sabrina Mustopo, Founder of Krakakoa Chocolate in Indonesia, joined the SEARCA Scholars and Grantees of the Southeast Asian University Consortium for Graduate Education in Agriculture and Natural Resources (UC) to discuss innovative ways to promote sustainable farming and support the local cacao farming community through a social business. The event was aptly titled, "Sweet Stories: Empowering Local Cacao Farmers through Innovative Food Production Systems". It was conducted on 16 April 2021 through the SEARCA Online Learning and Virtual Engagements (SOLVE) platform using Zoom and broadcasted live through FaceBook.
Sabrina shared that the cocoa sector in Indonesia is large and affects the lives of many people, specifically the smallholder farmers who produce majority of the cocoa. The smallholder farmers experience challenges such as low yields caused by diseases and lack of knowledge on good farm management techniques, poor quality of beans, and lack of value addition. These issues lead to low income, poor quality of local cocoa and chocolate, loss of economic value creation and employment.
After a successful career in a management and consulting company which spanned for six years, Sabrina pursued Krakakoa. Her background in International Agriculture and Rural Development, Minor in Food Science at Cornell University helped in translating her vision for the company. An advice that Sabrina gave the attendees is to pursue something that they love, and work with people they love spending time with, to create a good working environment.
Krakakoa provides a direct link between the farmers and consumers. As a social business, Krakakoa aims to change the impact that food production systems have on people and the planet through cocoa. They also work to improve the livelihood of the Indonesian cocoa farmers, increase environmental sustainability, and improve land use in cocoa growing areas in Indonesia, increase the profile of Indonesian cocoa and chocolate, and contribute to the economic development of Indonesia.
Through Krakakoa, the smallholder cacao farmers are given training and equipment for free. They also receive a stable price of up to three times the market price and the cocoa beans are processed into final products in a factory in Sumatra instead of just exporting raw or semi-processed goods.
Besides helping the smallholder farmers and promoting sustainable cacao farming, Krakakoa has also received numerous international awards for its range of products and design. Sabrina advised those who would like to pursue entrepreneurship to first gain experience in a small company instead of working for an established institution with all the systems in place because that is how they will learn.
The GSID Conversations serve as an avenue for SEARCA Graduate Scholarship and Institutional Development stakeholders to discuss with experts from different fields regarding complementary topics in line with agriculture and rural development. The activity will also share experience and insight on translating knowledge and skills into meaningful contributions to society. Prior to the pandemic, ECLD planned to offer these sessions as part of the regular line-up of learning events such as the training on writing thesis/dissertation proposals, data analysis and experimental design, basic English course, student orientation, and teambuilding. Pandemic restrictions postponed the face-to-face conduct of GSID Conversations which will be held online instead.