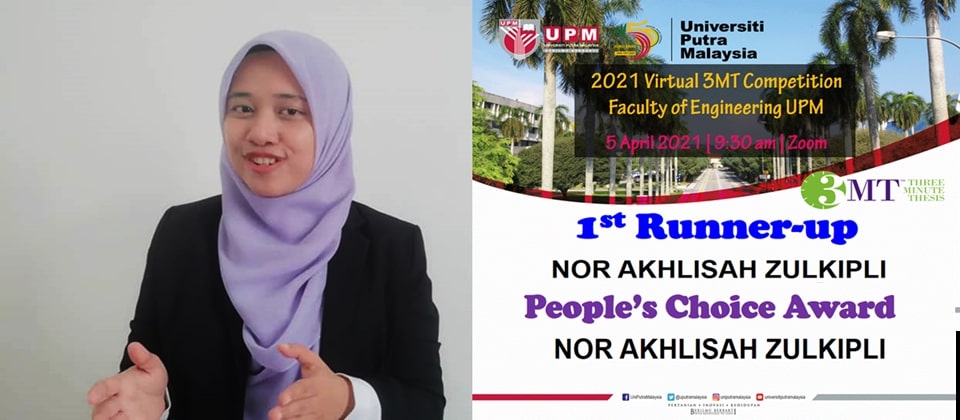 DAAD-SEARCA scholar, Nor Akhlisah, won 1st Runner-up and People's Choice Award at the 2021 Virtual 3MT Competition of the Faculty of Engineering in UPM.
DAAD-SEARCA scholar Nor Akhlisah Zulkipli won 1st Runner-up and People's Choice Award at the Three Minute Thesis (3MT) faculty level competition in Universiti Putra Malaysia (UPM) on 05 April 2021. Her win qualified her for the university-level competition where she bagged 2nd Runner-up on 22 April 2021. She was also chosen to represent UPM in the 3MT National Competition for the engineering category in June 2021.
The 3MT competition was first developed by the University of Queensland and subsequently carried out in other Australian and New Zealand universities. It is a competition where Ph.D. students present their research projects to a non-specialist audience in just three minutes. In Malaysia, UPM and the University of Malaya (UM) are the first institutions to introduce 3MT to develop a vibrant community of researchers among students.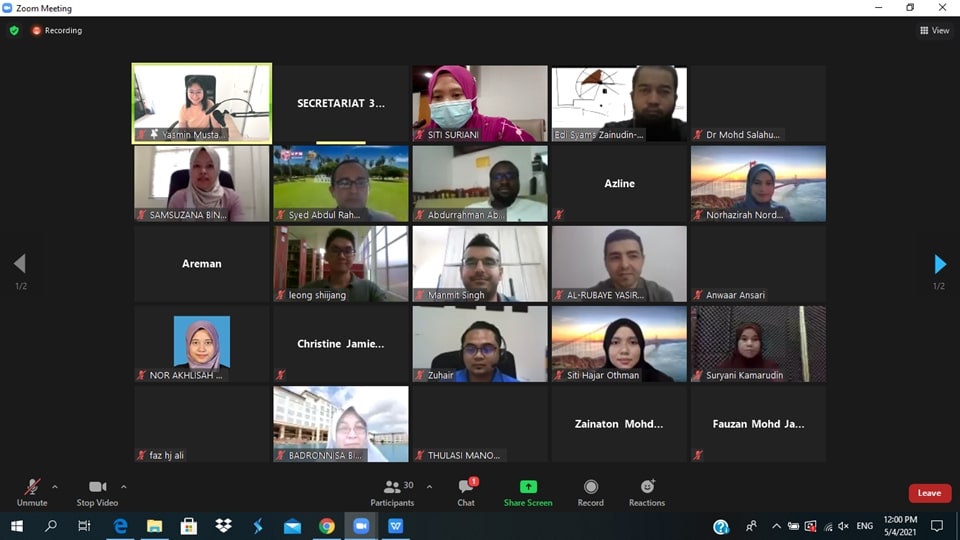 Attendees of the UPM Faculty of Engineering 2021 Virtual 3MT Competition
This year, UPM organized the competition at the faculty/institute level and the university level. Due to pandemic restrictions, UPM and the other universities decided to conduct the competition virtually through video submissions. Nor Akhlisah competed in the Faculty of Engineering and presented her research on "Levulinic Acid: A Treasure from the Waste." Levulinic acid is a high-performance chemical and identified by the United States Department of Energy as one of the top-12 platform chemicals. It can be produced from biomass waste such as those generated in oil palms. By doing so, this can help prevent the practice of burning waste which contributes to air pollution.
Nor Akhlisah shared that she decided to join the competition three years ago when she saw the poster of 3MT in UPM. At that time, she was still taking her Master's degree and will not qualify as a participant so she just watched the competition. She said "It was great to see how efficiently and passionately they talked about their research. This year, when the competition was announced, I decided to join, and I really didn't want to miss this chance!"
Now an ongoing Ph.D. student, there was no stopping Nor Akhlisa from joining 3MT this year. She started preparing her presentation by listing the main points of her study with the assistance of her supervisor and friends. "They helped me a lot", Nor Akhlisa shared. She did not expect to win the 1st Runner-up and People's Choice Award at the faculty-level competition which then qualified her for the University Heats Competition. "My faculty arranged a series of training for me conducted by previous 3MT winners. I was then selected among 10 students to join the university level 3MT competition and I was also surprised when they announced my name as 2nd Runner-up. I was also awarded RM 600 and a certificate."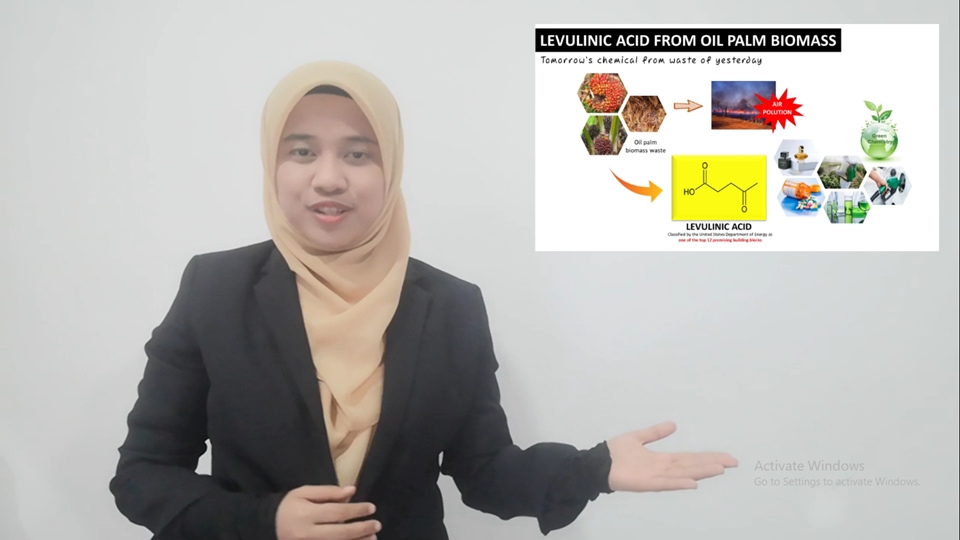 Nor Akhlisah during the UPM Faculty of Engineering 2021 Virtual 3MT Competition
On her experience competing, Nor Akhlisah said that she learned so much from the 3MT competition. "It has been one of the best experiences I've had during my Ph.D. and it has opened more opportunities for me too. I also had the chance to meet new people. I've come out feeling more confident about disseminating my work and engaging with others about my research. More than this, the competition has been a significant reminder for me of why I started my Ph.D. journey in the first place."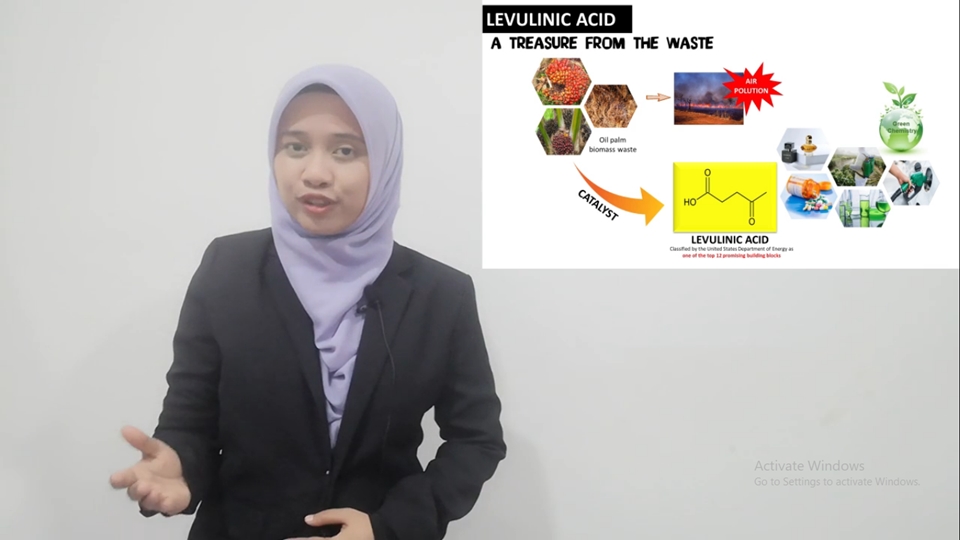 Nor Akhlisah during the Final 3MT Competition (university level) at UPM
Nor Akhlisah is currently preparing for the 3MT National Competition where the winner among all university representatives will represent Malaysia at the 2021 Virtual Asia-Pacific 3MT Competition to be hosted by the University of Queensland, Brisbane Australia. UPM is also supporting her by providing training to prepare her for the competition.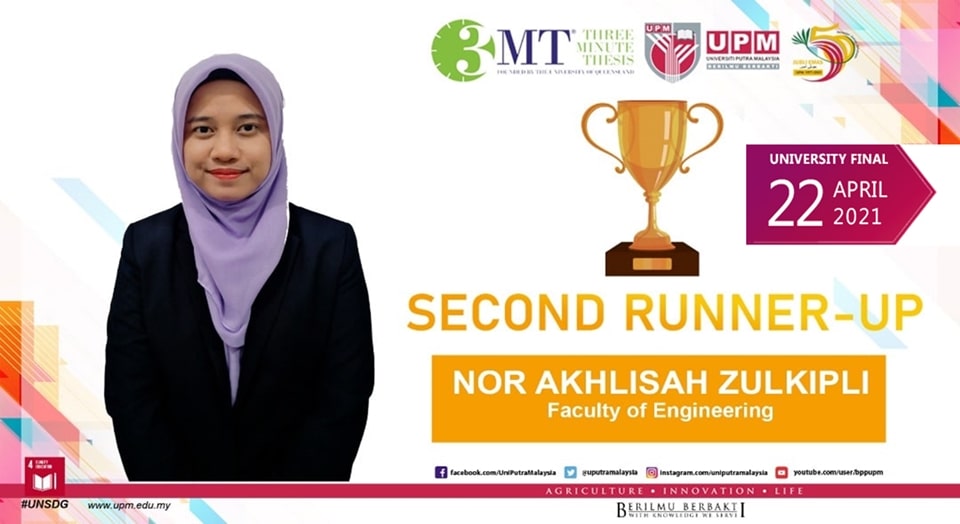 Nor Akhlisah won 2nd Runner-up for the university level 3MT competition which qualified her to join the national level competition in June 2021.
Nor Akhlisah was granted a DAAD In-Country/In-Region Scholarship in 2019 to pursue her Ph.D. in Environmental Engineering in UPM. This scholarship program aims to develop professionals who will usher in strong and internationally oriented higher education systems with the capacity to contribute to sustainable development. DAAD has been SEARCA's longstanding partner in providing graduate scholarships since school year 1975-1976.