The Central Luzon State University (CLSU), in cooperation with the Southeast Asian Regional Center for Graduate Study and Research in Agriculture (SEARCA) and the Southeast Asian University Consortium for Graduate Education in Agriculture and Natural Resources (UC), co-organized the International Summer Short-Term Course on mushroom farming, organic agriculture, aquaculture, and transboundary animal diseases. The short-term course will run from July 19-29, 2021.
During its opening program on July 19, Dr. Edgar A. Orden, University President of CLSU, welcomed the participants to their course offering which highlights the mastery of concepts and skills relevant to the student's field of interest through the diverse training tracks. Dr. Renato G. Reyes, Vice President for Academic Affairs and Director of the International Affairs Office, provided an overview of the whole program, which also integrates lectures on Filipino culture, traditions, music, and cuisine. In addition, the course includes a virtual tour to introduce CLSU to the attendees.
Dr. Maria Cristeta N. Cuaresma, Program Head of the Education and Collective Learning Department, conducted an information session about SEARCA and the UC. CLSU became an Affiliate Member of the UC this 2021, and this is the first joint activity of the university with the consortium.
From more than 800 participants, one hundred twenty-six (126) students are from the UC member institutions. CLSU also invited experts from IPB University and Universiti Putra Malaysia (UPM) to conduct special lectures for the attendees on July 23, 2021.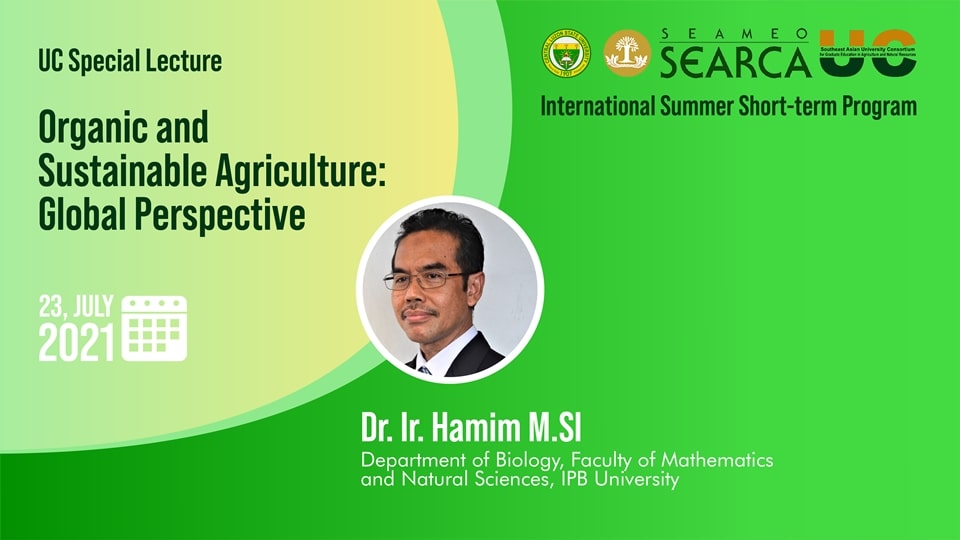 CLSU spearheads the International Summer Short-Term Course with SEARCA and the UC
Dr. Ir. Hamin, M.Si, from IPB University, discussed Organic and Sustainable Farming: A Global Perspective. He shared that modern agricultural practices rely heavily on intensive cultivation, monoculture, higher off-farm input such as fertilizers and pesticides, and heavy machines. The dependency on fertilizers and pesticides results in negative impacts on the environment such as increase in toxicity, decrease in biodiversity, low soil fertility, low organic materials, and low microorganisms. Organic and sustainable farming can be a solution to this as described by the USDA National Organic Standards Board (NOSB) since it sustains the health of soils, ecosystems, and people. This practice also promotes and enhances biodiversity, biological cycles, and soil biological activity. It also minimizes the use of off-farm inputs, and restores, maintains, and enhances ecological harmony.

CLSU spearheads the International Summer Short-Term Course with SEARCA and the UC
The increasing awareness of organic and sustainable farming can be attributed to its health benefits, environmental contribution, resource sustainability, as well as the growing organic community composed of farmer organizations, organic traders, organic consumers, NGOs, and cooperatives. Dr. Hamim also presented statistics on organic agriculture per area, the sale of organic products, and market which showed a growing trend in the past decade.

CLSU spearheads the International Summer Short-Term Course with SEARCA and the UC
Some of the global issues and challenges faced by organic farming includes productivity, market, price, certification, network, and government policy. Dr. Hamim highlighted the importance of network and partnership in sustaining organic farming practices.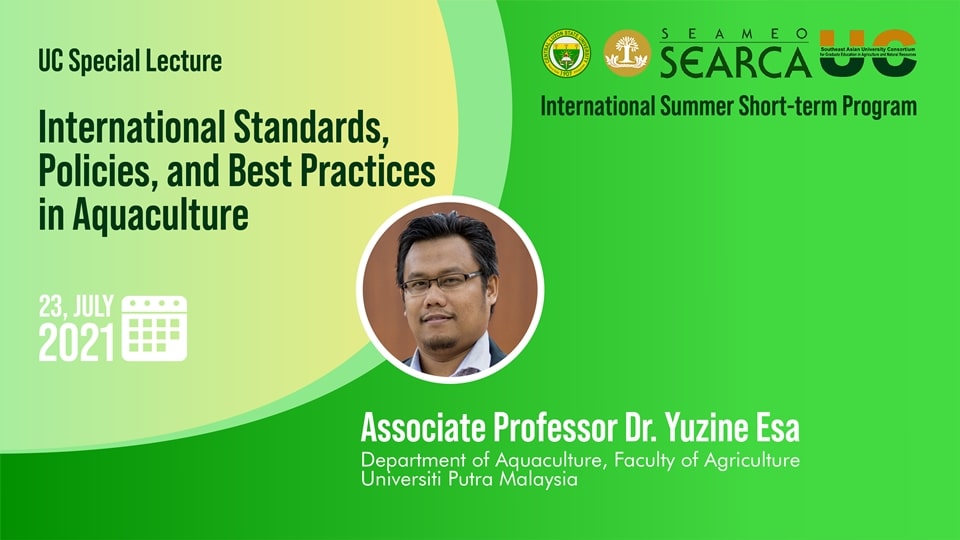 CLSU spearheads the International Summer Short-Term Course with SEARCA and the UC
Assoc. Prof. Dr. Yuzine Esa from UPM discussed International Standards, Policies, and Best Practices in Aquaculture. He first presented the seven ASC Tilapia Farming Standards. The first standard is compliance to the law, national and local regulations, such as securing documents as proof of following land and water use, water quality, tax, and labor laws.
Another standard is managing the farm site to conserve the natural habitat and local biodiversity which includes managing site information, wetland conservation, monitoring water quality, and presence of natural or established tilapia species. The third standard is conserving water resources which involves nutrient utilization efficiency and groundwater salinization or avoiding the mix of the freshwater aquifer with saline water.
The fourth standard is conserving diversity and wild populations which covers predator control, transgenic fish, transporting live tilapia, and escape from aquaculture facilities. The fifth standard is using resources responsibly such as using wild fish for feed (fishmeal and oil), preference for better feed manufacturers, and conservation of energy.
The sixth standard refers to managing fish health and welfare in an environmentally responsible manner. This involves recovering stocked fish over the entire culture cycle once the average individual fish size is greater than 100 grams. There should also be strict control and monitoring of chemicals and therapeutants as well as promotion of vaccines, removal of dead fish, and effective biosecurity control.
The final standard refers to being socially responsible in tilapia farming. This refers to issues in employment and the community such as child labor, forced labor, discrimination in the work environment, the health and safety of workers and their living conditions, wages, overtime, and working hours, disciplinary actions, and freedom of association and rights to collective bargaining.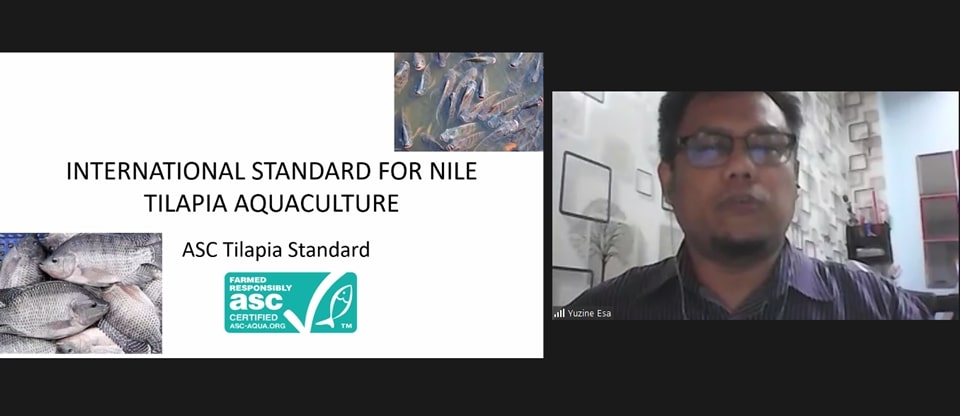 CLSU spearheads the International Summer Short-Term Course with SEARCA and the UC
Prof. Dr. Yuzine also tackled policies in aquaculture which are embedded in national fisheries or agriculture policies such as in Malaysia with the state-level National Agro-Food Policy (NAFP). However, there is no specific policy on tilapia aquaculture. The ASEAN also established the Resolution on Sustainable Fisheries for Food Security for the ASEAN Region Towards 2030. ASEAN likewise provided the Guidelines on Good Aquaculture Practices (ASEAN GAqP) for Food Fish.
In terms of best aquaculture practices for tilapia farming, Prof. Dr. Yuzine focused on four key issues such as the community, environment, animal welfare, and food safety. On community issues, tilapia farming should comply with property rights and regulations, community relationships, and adhere to human resource safety and employee relationships. The protection of the environment includes wetland conservation, global resources conservation, soil and water conservation, managing escapes, non-native stocks, genetically modified organisms, and the proper storage and disposal of farm supplies. Animal welfare pertains to tilapia husbandry, while food safety involves microbial sanitation, harvest, and transport.

CLSU spearheads the International Summer Short-Term Course with SEARCA and the UC
Crucial to these best practices is product traceability which includes efficient record keeping. This ensures that all steps in the production process comply with environmental, social, and food safety standards. Data that should be compiled for each culture unit per production cycle include an identification number, volume or surface area, stocking rate, source of fingerlings, antibiotic and drug use, pesticide use, harvest date, harvest quantity, and processing plant or purchaser.

CLSU spearheads the International Summer Short-Term Course with SEARCA and the UC
IPB University and UPM are members of the UC, with SEARCA serving as Secretariat. For more information and future course offerings of CLSU, email clsuiao@clsu.edu.ph.