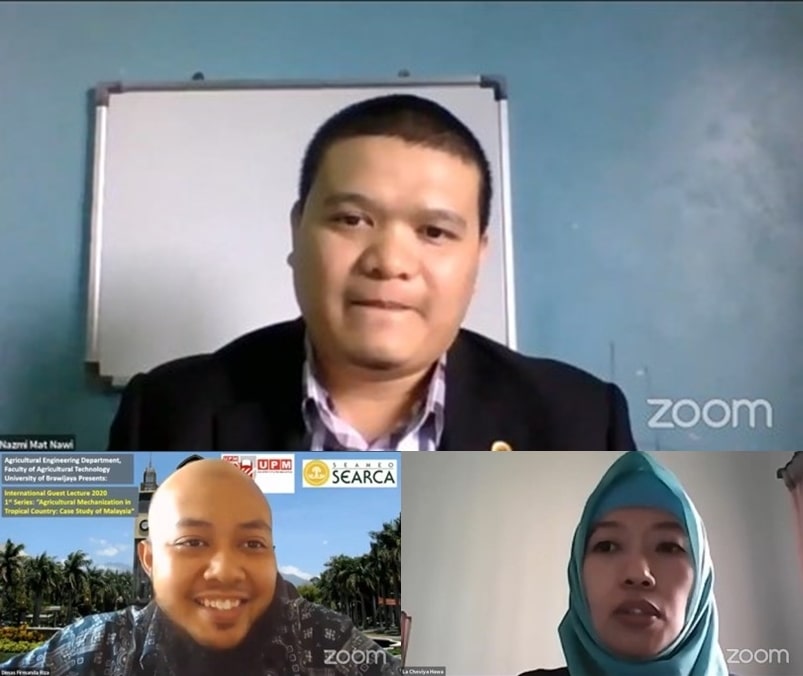 (Top) Dr. Nazmi Mat Nawi, guest lecturer from Universiti Putra Malaysia (Bottom, L-R) Dr. Dimas Firmanda Al Riza, Moderator of the lecture; and Dr. La Choviya Hawa, Department Chair of Agricultural Engineering, Universitas Brawijaya.
Malang, Indonesia - Universitas Brawijaya (UB) organized its Annual Agricultural Engineering Lecture Series, through its Department of Agricultural Engineering, on 10 June 2020. The activity, which is regularly offered offline, was conducted live via web streaming due to COVID-19. It was also opened to the public for the first time as it was originally held exclusively for UB students to gain knowledge from experts in the field of agricultural engineering. The lecture was also conducted in collaboration with SEARCA and Universiti Putra Malaysia (UPM).
The guest lecturer, Dr. Nazmi Mat Nawi, is a leading researcher in Malaysia who was recently awarded a SEARCA Regional Professorial Chair in the field of Agricultural Mechanization and Post-harvest Engineering. He discussed "Agricultural Mechanization in Tropical Country: Case Study of Malaysia" during the online public lecture which was also tagged as a SEARCA Professorial Chair Lecture, as part of the said grant.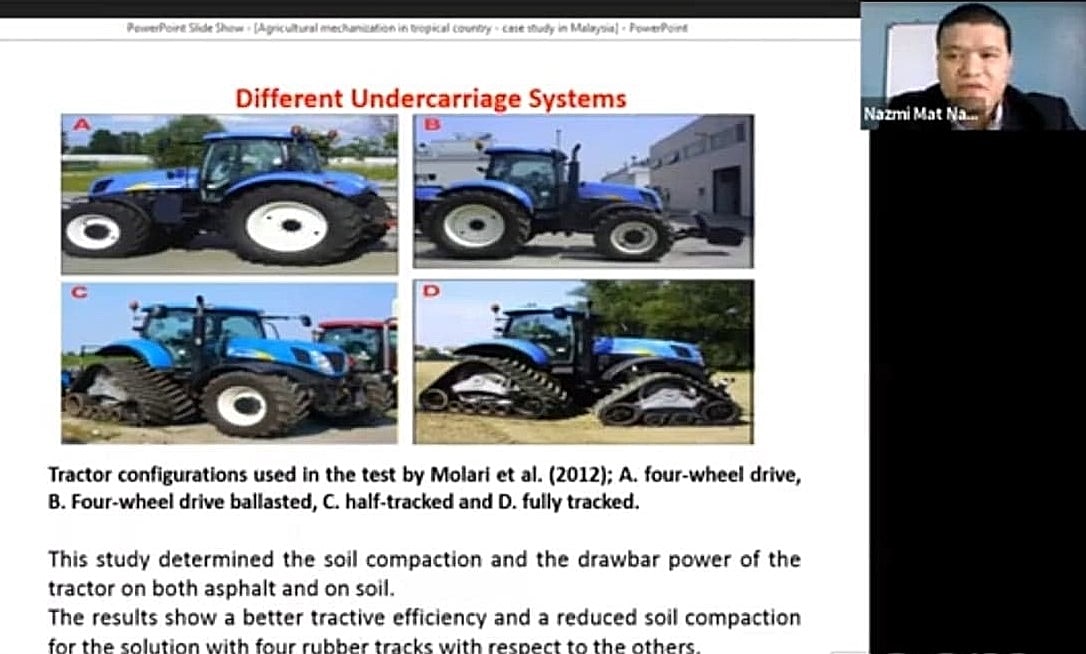 UB, UPM, and SEARCA collaborate for the Annual Agricultural Engineering Lecture Series
Dr. Nazmi shared the importance of agricultural mechanization and presented case studies related to two important crops in Malaysia, which are the oil palm and rice. He highlighted the need to modernize the agricultural sector through mechanization, automation, and digitalization. However, the decrease of skilled labor and the ageing population of farmers, as well as the low percentage of youth engaged in agriculture, prove to be a challenge for this feat since mechanization often requires highly skilled individuals.
In introducing a new technology, Dr. Nazmi advised two things to consider: productivity and cost. So, one must think how the new technology will be more productive and cheaper than what is currently available. Similarly, when adopting the technology, one must consider people's capacity, the agricultural process to be mechanized, and the appropriateness of the technology to be used.
Dr. Nazmi explained that the process of harvesting is labor-intensive in both an oil palm plantation or in rice cultivation, and that Malaysia still experiences shortages in manpower. He also remarked that the current technology for oil palm harvesting is expensive while a mechanized rice harvesting system, such as the large combine harvester (LCH) used by Malaysian contractors, damages the soil due to its weight. As UPM is one of the leading Malaysian universities in agriculture, the institution has developed appropriate technologies to address these difficulties which Dr. Nazmi presented as part of his lecture. He has also contributed to this endeavor as he holds the intellectual property rights for the Integrated System for Processing Oil Palm Empty Fruit Bunches (OPEFBs).
Dr. Nazmi concluded his lecture by highlighting that agricultural mechanization offers a solution to labor shortages and when properly utilized, it could increase crop productivity as it improves farm efficiency. He also emphasized that research and development of technology must consider the locality where it will be used. A Q&A session was held for the online viewers from Indonesia, Malaysia, Philippines, Japan, and South Africa, with Dr. Dimas Firmanda Al Riza serving as moderator. This was followed by a closing message from Dr. La Choviya Hawa, Department Chair of Agricultural Engineering in UB, who reiterated the importance of holding such learning events to disseminate knowledge and research in the field of agricultural engineering and also to strengthen the partnership among institutions.
Dr. Nazmi's discussion on agricultural mechanization in the context of Malaysia contributes to the discourse of introducing innovations and platforms that will benefit more people, which aligns with SEARCA's Eleventh Five Year Plan (FYP) on Accelerating Transformation through Agricultural Innovation (ATTAIN). SEARCA envisions to become a leading enabler and champion of excellence in agricultural and rural development in Southeast Asia that elevates the quality of life of agricultural families through sustainable and resilient livelihoods and access to modern networks and innovative markets. The Center also works to transform farmers to operate in a modern agricultural ecology and number one in the priority areas of ATTAIN is agri-business models for increased productivity and income.