Eighty-five (85) faculty members from nine institutions of the Southeast Asian University Consortium for Graduate Education in Agriculture and Natural Resources (UC) participated in the 2nd Faculty Forum with the theme Agriculture and Beyond held on 9-10 November 2020 and hosted by the National Taiwan University (NTU).
The UC Faculty Forum is an annual event that aims to provide an opportunity for faculty members from UC members to develop camaraderie, encourage transdisciplinary studies, and promote greater integration of research through strategic partnerships for collaboration. This activity is also a way to further strengthen the relationship between and among the UC members which would hopefully lead to collaborative research proposals. The activity was initially proposed by University of the Philippines Los Baños (UPLB) in 2018 and was first held in 2019 at Los Baños, Laguna.
Due to the pandemic, the conduct of the 2nd Faculty Forum was done online with Institut Pertanian Bogor (IPB), Universitas Gadjah Mada (UGM), Universiti Putra Malaysia (UPM), UPLB, Kasetsart University (KU), Universitas Brawijaya (UB), Tokyo University of Agriculture (Tokyo NODAI), NTU, University of British Columbia (UBC) and the Southeast Asian Regional Center for Graduate Study and Research in Agriculture (SEARCA) in attendance.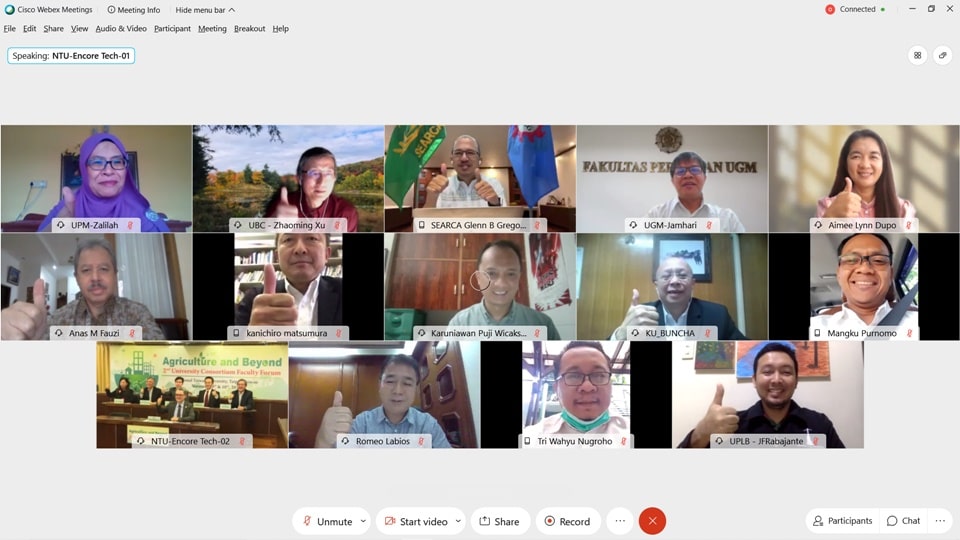 Representatives from the UC member institutions attend the virtual Faculty Forum hosted by NTU
The UC also invited distinguished speakers from the World Vegetable Center (WorldVeg) and the Food and the Fertilizer Technology Center for the Asian and Pacific Region (FFTC). Dr. Marco Wopereis, Director General of WorldVeg discussed rethinking food systems for a post COVID-19 world. He highlighted the importance of building healthy food systems bottom-up, with the active participation of all stakeholders involving all sectors in society. COVID-19 disrupted the global food systems, but it also offered an opportunity to transform the existing system towards a more diverse and healthy diet while improving the livelihood of the stakeholders.
Dr. Su-San Chang, FFTC Director, shared about the challenges and opportunities of bio-environmental R&Ds for sustainable agriculture development in the Asian and Pacific Region. After briefly introducing FFTC, Dr. Chang talked about the R&D results in Taiwan and FFTC activities in terms of soil management for sustainable agriculture, development of natural enemies, biofertilizers and biopesticides, plant health management systems and eco-engineering for integrated pests management (IPM), and the use of ICT technologies in pests and diseases monitoring, diagnosis and early warning systems, development of biomedicine and biosecurity, animal vaccines and health promoting feed additives for antibiotic-free era in livestock industry, the practices and benefits of circular agriculture in waste reduction and recycling, and implementing the Satoyama initiative for the benefit of biodiversity and human well-being.
The Faculty Forum held four sessions spread out during the two-day event. Session 1 was on Agricultural Education and Promotion from the Social Science Perspectives. Discussion centered on the impact of COVID-19 pandemic on small-scale farmers in Taiwan, smallholders' adoption of smart agricultural technologies in Taiwan, the future of agricultural extension and education in Indonesia, the development and transfer of marketing knowledge among small-scale agribusiness enterprises during the pandemic, the agriculture education and promotion in Malaysia, and the farmer's education in light of the new normal.
Session 2 was all about Mechatronics Engineering and Digital Applications in Agriculture. The panelists talked about IoT-based smart sensor network system for integrated pest and disease management, autonomous molting detection system for commercial softshell crab (Portunus pelagicus) production, Taiwan and Japan agriculture supported by Indian-based satellite images, precision agriculture in Indonesian smallholder farming, artificial intelligence and machine learning for agricultural applications, innovation through automation and robotics to improve agricultural labor force, and an autonomous mobile robot to determine oil palm fruits' maturity level.
On the second day of the Faculty Forum, Session 3 tackled the Challenges of Current Bio-environmental Issues. It included a dialogue on the biological treatment of alkaline leather fleshing instead of incineration, therapeutic effects and possibilities of forests in Asia, the challenges and opportunities of bio-environmental research in Kasetsart University, landscape ecology and urban biodiversity, and the threats to arthropod biodiversity and the protection afforded to it.
Session 4 covered No Hunger: Food Security and Safety. This last session included a discussion on the relationship of food safety and food security, food security during and post COVID-19 pandemic and the role of low-hanging food crops, food security in the context of Taiwan, and facilitating research collaboration on transboundary plant pests.
Dr. Glenn B. Gregorio, SEARCA Director, hoped that the learnings from the faculty forum will lead to a Better, Bigger and Smarter normal that is highly relevant for the future of Southeast Asia and beyond. Dr. Gregorio also shared about reinforcing transformative change in agricultural food systems in time of the pandemic. This included a presentation on SEARCA's 11th Five-Year Plan focusing on "Accelerating Transformation Through Agricultural Innovation" or ATTAIN. The 11th FYP aims to collaborate with key players from the academe, industry, and government to bridge the gaps which burden farmers and farming families. Dr. Gregorio highlighted the importance of partnerships given the complexity of challenges in agriculture and rural development.
The Faculty Forum ended with both Dr. Huu-Sheng Lur, Professor and Dean, College of Bioresources and Agriculture, NTU and Dr. Gregorio congratulating the panelists, speakers, and organizing committee for the successful two-day event. The next UC Faculty Forum in 2021 will be held at Tokyo University of Agriculture (Tokyo NODAI) in Japan.