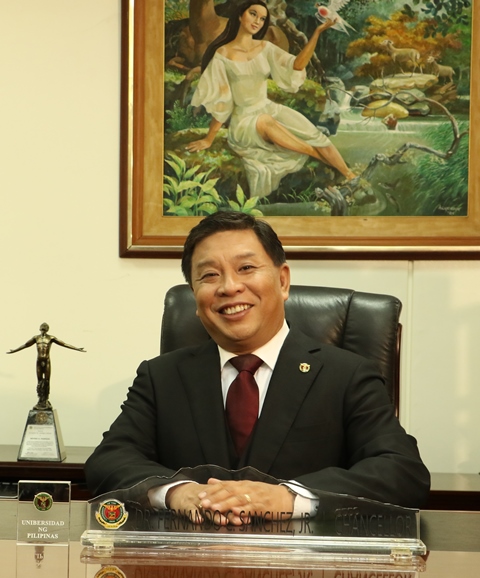 The UP Board of Regents, the highest decision-making body of the UP System, has reappointed Dr. Fernando C. Sanchez, Jr. as chancellor of UPLB at its 1331st meeting on Oct. 18 at Quezon Hall, UP Diliman.
Chancellor Sanchez's second term is effective Nov. 1, 2017 to Oct. 31, 2020.
In his vision paper entitled "Continuing the legacy of working together for excellence," Chancellor Sanchez articulated his plans to continue making UPLB a globally competitive graduate and research university contributing to national development. He expressed his aim to continuously sustain UPLB's academic leadership and excellence; promote the use of UPLB knowledge and technologies towards inclusive growth; and create an enabling environment for creativity and innovation.
"UPLB is blessed with a collegial spirit – a thread of community and family that continues to bind our alumni, students, and staff – amidst diversity and the challenges of a fast changing world," Chancellor Sanchez said. "My mission is to continue to bring together everyone in the University to actively participate and collaborate with us so that we can achieve our vision for UPLB."
Chancellor Sanchez is a professor of landscape horticulture at the College of Agriculture and Food Science, a licensed agriculturist, and a certified arborist. He finished his BS Agriculture and MS Environmental Science from UPLB in 1987 and 1994, respectively. He earned his PhD Landscape Architecture from the Tokyo University of Agriculture in 1998.
He has held various administrative positions in UPLB since 2005. He was assistant to the vice chancellor for planning and development (2005-2011) and vice chancellor for planning and development (2011-2014) prior to becoming UPLB's chief executive in Nov. 2014. (Mark Jayson E. Gloria)