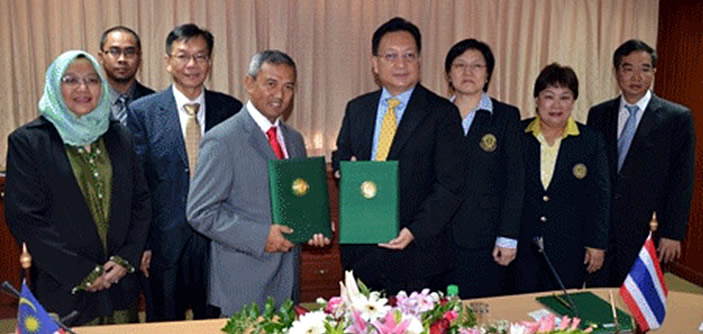 Thailand's Kasetsart University (KU) and the Universiti Putra Malaysia (UPM) have agreed to implement dual research degree programs, as part of their continuing efforts towards internationalization of graduate education. The program, which will cover both Masters and PhD degrees in areas related to agriculture, food science, forestry, agro-industry and economy, among others, will be rolled out starting Academic Year 2015-2016 in August 2015.
YBhg. Prof. Dato' Dr. Mohd Fauzi Hj. Ramlan, UPM Vice Chancellor and Associate Professor Dr. Bordin Rassameethes, KU Vice President signed the memorandum of agreement which formalized the said collaboration.
Under the dual degree program, graduate students will enroll and will receive certificates or diplomas in both universities. Moreover, graduate students will form an Examination Committee with an Internal Examiner appointed by each University, and an External Examiner who shall be independent of both Universities. Students will also be invited to both KU's and UPM's graduation ceremony.
This graduate degree program is one of the first collaborations inked after the University Consortium members signed the memorandum of understanding promoting joint and dual degree programs between and amongst members.
"This MoA will also provide a solid platform for gaining new experiences and creating a vast and immense working network via the research collaborations conducted by the two universities, thus, catapulting the students towards a better career future. Malaysian and Thai students will also benefit as local rate fees will be levied on them during their candidature," affirmed Vice Chancellor Ramlan during the MOA signing, which took place on 3 February 2015 at KU, Bangkok, Thailand.
KU and UPM are two of the premier agricultural universities in Southeast Asia belonging to the top 100 Universities, as far as QS world rankings are concerned. Both are members of the University Consortium since the UC's establishment in 1989.