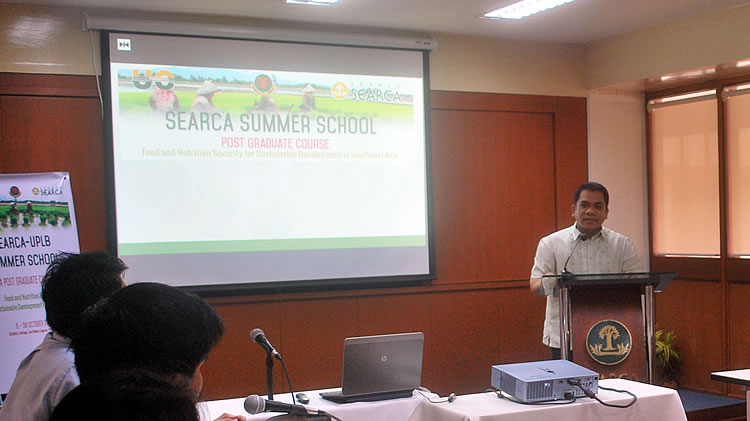 uplb-to-implement-first-offering-of-university-consortium-summer-school-in-2015
The University of the Philippines Los Baños (UPLB), under the leadership of its new Chancellor, Dr. Fernando C. Sanchez, Jr., has committed to launch the Southeast Asian University Consortium for Graduate Education in Agriculture and Natural Resources (UC) Summer School on Food and Nutrition Security for Southeast Asia in July 2015. This was firmed up during the 27th UC Executive Board Meeting on 14 November 2014 at the New World Hotel, Makati City, Philippines.
The Summer School takes off from the pilot project on Food and Nutrition Security for Sustainable Development which was implemented by SEARCA in partnership with UPLB on 6-30 October 2014 (see related story).
However, the UPLB-hosted 2015 Summer School aimsto be a credit-earning Special Topics course under the UPLB Graduate School, which means students from abroad who registers in the summer course can get credit in an equivalent subject in their home university. Moreover, while foreign students will have to enroll at UPLB as non-degree students, the State University will endeavor to apply local rates for their tuition and other fees.
A workshop on Summer School course development will be conducted by UPLB during the early planning phase which will refine the SEARCA-developed course modules.
The Summer School is a post-graduate enhancement course that focuses the various concepts related to food and nutrition security in the context of sustainable development in Southeast Asia. It will be offered through a combination of class lectures, educational field trips, group work, and case study analysis.