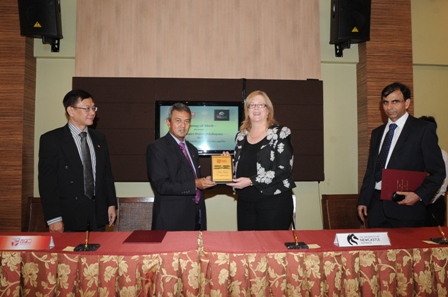 The Universiti Putra Malaysia (UPM) marked a new milestone by teaming up with the renowned University of Newcastle of Australia to jointly offer post-graduate studies where the degrees conferred will bear the crests and authorizing signatures of the two universities.
The Memorandum of Agreement (MoA) on the Jointly Awarded Research Higher Degree Programmes (JARHDPs) was signed by the UPM Vice Chancellor Prof Datuk Dr Mohd Fauzi Ramlan and the Vice-Chancellor and President of the University of Newcastle, Prof Caroline McMillan, on behalf of their respective institutions.
The signing of the JARHDP, the first by a Malaysian university, was witnessed by the Dean of the School of Graduate Studies of UPM, Prof Dr Bujang Kim Huat and the Pro-Vice Chancellor (Singapore) of the University of Newcastle, Prof Amir Mahmood.
In the ten-year agreement, a student applying to study at either university will be accepted into the JARHDP once both parties have agreed in writing to the candidate's proposal for the post-graduate studies. Candidates who are currently registered at either university shall be permitted to transfer to JARHDP with the approval of both parties and all supervisors.
The MoA further states that the candidate's proposal must identify the resources to be provided by both parties, and that during periods of attendance at its campuses by a student undertaking JARHDP, each party agrees to provide the project resources specified in the approved candidate's proposal. Both parties agree that the candidates are required to attend school at the host institution for a minimum of one full academic year and a maximum of two full-time equivalent academic years, in order to be eligible for JARHDP. Likewise, while candidates may be exempted from paying tuition fees at Newcastle, candidates in UPM may be required to pay UPM's fees, including insurance and incidental expenses.. It was also agreed that all JARHDP projects involving human and animal research must obtain prior approval from their relevant ethics committee.
This programme with the University of Newcastle is the latest addition to the Dual Degree/Jointly Awarded Research Degree that UPM is offering in cooperation with other international universities such as the University of Sheffield, University of Nottingham, Ajou University, Kyushu Institute of Technology, and Jordan University of Science and Technology.