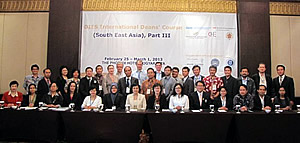 images
Thirty five deans of higher learning institutions in Southeast Asia converged at the Universitas Gadjah Mada (UGM) for the International Deans' Course (IDC) South East Asia. Facilitated by the German Academic Exchange Service (DAAD) in cooperation with the German Rectors' Conference (HRK) and the Centre for Development of Higher Education (CHE), participating countries include Malaysia, Thailand, the Philippines, and Malaysia. The said event is the last stage of the IDC, which kicked off through a workshop at the University of Applied Sciences Osnabrueck, Germany on 18-28 June 2012.
Dr. Irene Jansen, Director of DAAD Jakarta said that the training was expected to offer knowledge and understanding on organizational management amidst changes surrounding universities. "We support regional higher learning organizations in improving and implementing quality assurance, institutional management, and faculty management," she explained.
According to UGM Rector, Prof. Dr. Pratikno, as a national university UGM makes it a point to apply relevant developments in higher learning and human resources, and continuously develop innovations for the benefit of a wider public and the state in general. In order to reach these goals, UGM fosters collaborations with various organizations, such as DAAD. "The collaboration is expected to share knowledge and expertise, and to develop more innovations that will benefit all," he added.