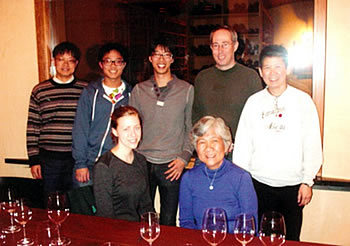 31 5 1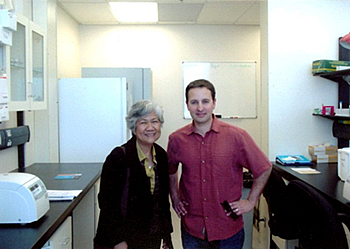 31 5 2
Through the Faculty Exchange Program of the Southeast Asian University Consortium for Graduate Education in Agriculture and Natural Resources (UC), Institute of Biological Sciences UP Los Baños (UPLB) Professor, Dr. Rita P. Laude completed her visit of the University of British Columbia (UBC) in Vancouver, Canada where she gained exposure on the various strategies, methods, and equipment in genomics and systems biology researches as applied to agriculture.
Dr.Isman Murray, dean of the Faculty of Land and Food Systems, and UBC's coordinator for UC welcomed Dr. Laude for her 10-day visit, which commenced on 1 May 2012. He likewise helped organize Dr. Laude's seminar entitled "Coconut Biotechnology: Gene Discovery of Fatty Acid/Triglyceride Biosynthesis, Cocosin Promoter, and Tissue-Culture-Transformation in Corn as a Model System," attended by food, nutrition, and health faculty and researchers.
The said program also gave Dr. Laude the opportunity to meet with the host scientists and todiscuss future collaborative researches involving faculty members and researchers under the UPLB-Philippine Genome Center Program for Agriculture. Among them were Dr. Hennie van Vuuren, Dr. Justin Lin, Dr. Zhongli Luo, Dr. Christopher Walkey, and Ms. Lina Madilao of UBC's Wine Research Center who helped explain the various research activities of the center. In managing the laboratory, Dr. van Vuuren has been engaging post-doctoral fellows. He says that this way, the Center has become more efficient and more productive, by allowing the Head to use his time more in resource generation activities.
Dr. van Vuuren's team also showed Dr. Laude the Center's wine cellar - a collection of more than 1000 wines of different brands and ages - where she was able to have a taste of vintage wine identified by undergraduate students as part of their thesis with the Wine Research Center.
Part of Dr. Laude's itinerary was a visit to UBC Okanagan campus where she met Dr. Michael Russello, head of the Conservation, Ecology, and Evolutionary Biology Laboratory of the UBC Okanagan's Biology Department.
Established only in 2005, the Okanagan campus plays host to the productive and well-organized laboratory of Dr. Russello which now manages various research activities on crocodiles, kakonee salmon, and the American pika, a small rodent-like mammal that looks like a squirrel or guinea pig. To carry out these researches efficiently, Dr .Russello has been involving his undergraduate and graduate students. With such a scheme in place, joint research involving UPLB graduate students is highly feasible, according to both Drs. Laude and Russello. (Jesselle S Laranas)