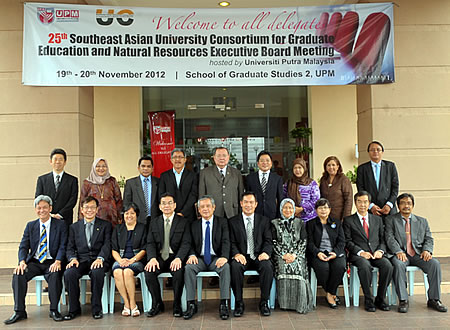 11-3
The Executive Board of the Southeast Asian University Consortium for Graduate Education in Agriculture and Natural Resources (UC) conducted its 25th meeting on 19-20 November 2012. With the Universiti Putra Malaysia (UPM) as host, the gathering was held at the School of Graduate Studies 2, headed by its Dean, Prof Dr Bujang Kim Huat, and concurrently UPM's coordinator for UC.

Prof Dató Ir Dr Mohd Saleh Jaafar, UPM's Deputy Vice Chancellor for Research and Innovation, welcomed the delegates in the opening ceremonies, which included representatives from the Institut Pertanian Bogor (IPB) and Universitas Gadjah Mada (UGM), Indonesia, Kasetsart University (KU), Thailand, University of the Philippines Los Baños (UPLB), the Tokyo University of Agriculture (TUA), Japan, and UPM.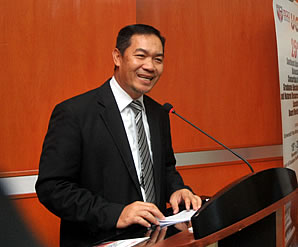 11-1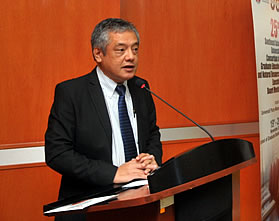 11-2
As a highlight of the Opening Ceremonies, a memorandum of agreement between SEARCA and UPM was signed in connection with a three-year joint graduate scholarship project, which shall commence in Academic Year 2012-2013. see related article

In his speech, SEARCA Director Dr Gil C Saguiguit, Jr underscored that such alliance "can bolster the collective effort to promote agricultural and rural development in our part of the world."

Taking off from these collaborations, Dr Saguiguit likewise expressed hope that "continuing ties will evolve into a higher plane including joint research and development undertakings, scientific fora and conferences on emerging development issues in agriculture, knowledge management, and student and staff exchange programs not only with our Center but also with the member universities of the University Consortium."

Highlights of the meeting included the agreement among UC members to develop double degree programs, the possibility of an annual conference back-to-back with the UC annual executive board meeting, and the development of an umbrella research framework on food security by the UC. The UC Executive Board also discussed ways and means to revitalize the UC and to review the guidelines for accepting new members including the new category of affiliate members.

The 26th UC Executive Board Meeting is tentatively scheduled on 19-21 November 2013 to be hosted by Kasetsart University, Thailand.

The following attended the meeting: Dr. Somsakdi Tabtimthong and Dr. Poonpipope Kasemsap from KU; Dr. Yoichi Sakata and Dr. Hironobu Shiwachi from TUA; Dr. Nastiti Kusumorini and Dr. Alinda Fitriani M. Zain, IPB; Dr. Masyhuri from UGM; Dr. Rex Victor O. Cruz, Dr. Oscar B. Zamora, and Dr. Jose V. Camacho, Jr. from UPLB; Dr. Gil C. Saguiguit, Jr. andDr. Editha C. Cedicol from SEARCA; and Dr. Bujang Kim Huat from UPM.

The UC was established in September 1989 through SEARCA's initiatives as a response to the growing demand for graduate education across agricultural disciplines and related field. UC's Executive Board is the policy-making body of the consortium. It is responsible for setting directions, developing new policies and program, generating resources to support and promote UC activities which focus on promoting education and research collaboration among the UC members.