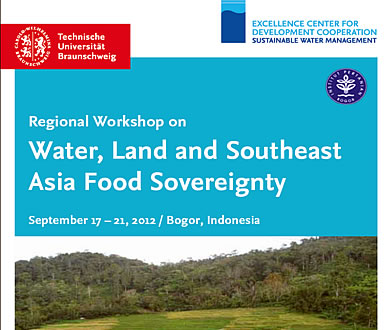 Climate change, land degradation, and increasing urbanization all lead to a decline of arable land in Southeast Asia. Consequently, this region is gradually becoming dependent on food imports from developed countries. To prevent a market-driven global food system dominated by the developed countries, promoting food sovereignty is now being endorsed as a social movement in the region.
The Department of Soil Science and Land Resources of the Bogor Agriculture University (IPB) in collaboration with the German Academic Exchange Service (DAAD) held the Regional Workshop "Water, Land and Southeast Asia Food Sovereignty," on 17-21 September 2012 at the IPB International Convention Center. Students and researchers from Vietnam, Thailand, Laos, Philippines, Belgium, China, and Bangladesh, participated in the workshop, which also aimed to build networks between scientists and policy makers on food and agriculture in Southeast Asia.
Prof. Dr. Ir. Herry Suhardiyanto, Rector of IPB, opened the regional meeting, which he said was an avenue for sharing of vital information and research results on water, soil and agricultural productivity among Southeast Asian countries. Dr. Suhardiyanto emphasized the improvement of the irrigation system as a critical component which should be given due attention by all stakeholders, especially the government. As a case in point, Dr. Suhardiyanto shared that in managing its irrigation system, the government of Indonesia has adopted the concept of integrated water resource management, based on economic efficiency, equity, and environment preservation.
Aside from Dr. Suhardiyanto, Dr. R. M. Marty M. Natalegawa, Foreign Minister of the Republic of Indonesia, Dr. Ir. H. Suswono, MMA (Minister of Agriculture of the Republic of Indonesia and Dr. Norbert Baas, German Ambassador in Indonesia graced the regional.
Source: IPB News|20 September 2012