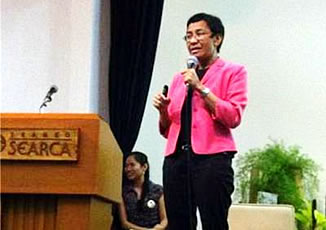 "It is no longer a question of professionals versus amateurs; it is a world of collaboration. We have moved from the age of authority to the age of authenticity." This statement from Maria Ressa, CEO and executive director of the social news network, Rappler, created ripples of excitement among more than 400 students and teachers who packed the SEARCA Umali Auditorium in the UP Los Baños campus on 19 September 2012.
Ressa, former chief of CNN's bureau in Manila and Jakarta and head of ABS-CBN News and Current Affairs, was referring to the power of social media for reportage and social change during her keynote speech in the seminar, entitled, Move Chat Series @ UPLB with the theme "Social Media for Social Change: Pushing Development Forward."
Rappler, as their online site describes, is "a group of journalists committed to inform Filipinos and inspire them to interact and participate in nation-building by providing a credible, creative, and interactive platform through social media."
She further explained that the new approach to journalism, which Rappler is advocating, is to be in the center of three overlapping circles, namely: professional journalism, the wisdom of crowds, and rich media.
"You now have to cut across all disciplines of professional journalism. You write, you shoot [pictures], you do the voice, you edit, then you upload," Ressa said. "Then you have to get the wisdom of the crowds. Seek the opinions and feedback of people; ask them how they feel about issues. That way, we cross out our biases and collectively make better decisions," she explains.
Rich media, meanwhile, means using technology such as iPhones that enable you to transmit all [information] immediately. "It's faster than anything!" she enthused. Capturing the best features of these circles are social media.
Building on the keynote message of Maria Ressa are other Rappler team members. Chay Hofileña, citizen journalism director, shared some principles on pushing stories into the mainstream media. "You must tell a story or let it have a human face before going into the statistics; have a narrative such as a triumph, struggle or determination; have a clear voice and direction; and offer a new, different, or fresh perspective to every story," she advised.
Michael Josh Villanueva, Rappler special projects director, gave useful tips on how to mobilize, build, engage, and act on a development issue using Facebook.
Patricia Evangelista, Rappler multimedia reporter, who describes herself "as more of a story-teller," shared how to tell compelling stories about people who would otherwise not be heard of or known. "People don't have that imagination to put themselves in others' shoes…That's why I write," she said.
The representative speaker from UPLB was Dr.Serlie Barroga-Jamias, director of the Office of Public Relations (OPR). She related how social media transformed her DevCom 123 students into citizen journalists especially during the crisis of student murders around UPLB last semester.
The seminar was co-organized by the Office of the Chancellor- OPR, the Development Communication Graduate Students Association (DEVCOM-GRADSA), the College of Development Communication (CDC), and the UPLB Foundation Incorporated (UPLB-FI).