Representatives of the EXPERTS Consortium met in Bogor, Indonesia for the EXPERTS I and II Meetings and EXPERTS III Kick-off Meeting on 29 October to 1 November 2012. The University of Göttingen, Germany, organized the meeting with the host institution, Institut Pertanian Bogor.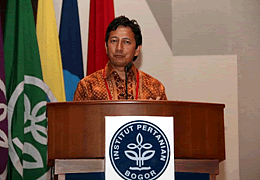 Mr. Netra Bhandari, International Programme Coordinator of the Georg August Universitat Goettingen in Germany, welcomed the participants to the meeting as well as over 300 students and faculty members from various universities in Indonesia who gathered at the Andi Hakim Nasoetion Auditorium to attend the EXPERTS Promotional Program during the opening day of the meeting.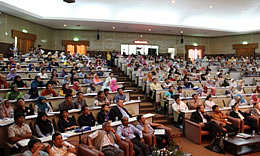 Present in the EXPERTS meeting were representatives from the 7 European partner universities, namely: Katholieke Universiteit Leuven, Belgium; Masaryk University, Czech Republic; Politecnico di Torino, Italy; Uppsala University, Sweden; University of Göttingen, Germany; Universidad Santiago de Compostela, Spain; and University of Turku, Finland, as well as the 13 South and Southeast Asia partner universities, namely: Khulna University, Bangladesh; Royal University of Bhutan, Bhutan; Nanjing University and University of Science and Technology of China, China; Delhi University and Pune University, India;Kathmandu University, Nepal;University of Peradeniya, Sri Lanka; Bogor Agricultural University (IPB Bogor), Indonesia; Kasetsart University, Thailand; and Visayas State University, The Philippines
Aside from consortium partner universities, EXPERT also has six Associate Partners, namely: AGRINATURA, Czech Republic,COIMBRA Group, Belgium and Tata Institute of Social Sciences, India, Compostela Group of Universities, Spain, Jesuit Refugee Service-Asia Pacific, Thailand and Lahore University of Management Sciences, Pakistan and SEARCA.
Dr. Editha C. Cedicol, Program Head of SEARCA's Graduate Scholarship Department, represented SEARCA in the meeting.
During the meeting, the Consortium participants discussed the mobility program, administrative concerns and promotion and visibility of the EXPERTS Project. The group also discussed possibilities for regional cooperation with other consortia as well as identified other avenues for collaboration and strategies for sustainability of the network activities. The IPB was designated as the Joint Coordinator of the EXPERTS Project that will closely coordinate with the Coordinator in University of Goettingen, Germany.
On the third day of the meeting, the participants took time out to visit the President's Palace, the Bogor Botanical Garden, the Safari Park, and the Tea Plantation.
EXPERTS, is a European Union (EU)-funded project that aims to enhance the capacity for international cooperation among its participating countries in South and Southeast Asia (SSEA) and to exchange knowledge and ideas among the Asian and European partners. This project places an emphasis on research and cooperation, establishing collaborative framework for human resource development through training and upgrading the skills of junior faculty staff, undergraduates, postgraduates and post doc researchers by specified learning objectives in the field of engineering and technology, agricultural sciences, environmental studies, business-management and social sciences. The implementation of individual mobilities, with special emphasis on research initiatives, will provide students from SSEA regions with mobility for a broader choice of opportunities for study experience in EU institutions. EXPERTS I held its Kick-off Meeting at SEARCA in the Philippines in October 2010, while the Kick-Off Meeting for EXPERTS II was held in the Royal University of Bhutan in Paro, Bhutan in September 2011. (Read more about the Project atwww.searca.org/experts-consortium). (Editha. C. Cedicol)