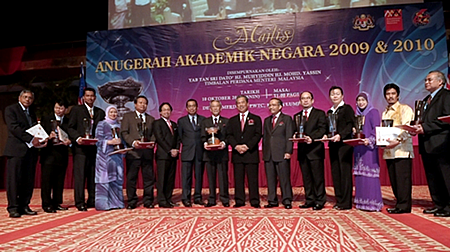 nov 4 1
Five professors from the Universiti Putra Malaysia (UPM) made history as they all received the National Academic Awards 2010 given by Malaysia's Deputy Prime Minister Tan Sri Muyiddin Yassin at the Putra World Trade Centre (PWTC).
The annual award organized by the Ministry of Higher Education recognizes the contribution of outstanding academicians in the fields of instruction, research, community and nation.
Professor Emeritus Tan Sri Datuk Dr. Omar Abdul Rahman, former first Dean of the Faculty of Veterinary Medicine and Animal Science was bestowed the National Academic Personality Award in recognition of his significant achievements and contributions in the academic community.
Other category winners were Dr. Mohamad Pauzi Zakaria from the Faculty of Environmental Studies (Journal Paper Publication Award); Deputy Vice-Chancellor for Academic and International and Dr. Aini Ideris (Award for Product Innovation and Commercialization); Dr. Mohamed Shariff Mohamed Din of the Faculty of Veterinary Medicine (Health Sciences Group); and Dr. Mohammad Shatar Sabran from the Faculty of Human Ecology (Arts and Social Sciences Group).
In an effort to preservethe country's academic performance, UPM through the Office of the Deputy Vice-Chancellor for Academic and International will host a conference for academic development at the tertiary level in November 2012 where efforts to improve the quality and academic performance of institutions within the Malaysian Agro Exposition Park Serdang (MAEPS), Mardi will be discussed.
Source: UPM News | 10 October 2011