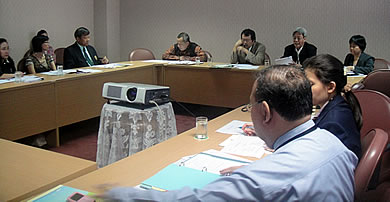 21
Members of the Southeast Asian University Consortium for Graduate Education in Agriculture and Natural Resources (UC) met in Kasetsart University (KU) in Bangkok, Thailand on 15 December 2011to plan, strategize, and review proposals as well as recommend to the Board the priority activities and budgetary requirements for 2012.
The following composed the UC Working Committee: Dr. Oscar B. Zamora of the University of the Philippines Los Baños (UPLB), who served as Chair; Dr. Somsakdi Tabthimthong of KU; Dr. Dahrul Syah of Institut Pertanian Bogor (IPB), Indonesia; Dr. Akimi Fujimoto of Tokyo University of Agriculture (TUA), Japan; and Dr. Editha C. Cedicol, of SEARCA based in the Philippines.Officials and some faculty members of KU's Kamphangsaen campus attended the meeting as observers.
Aside from the regular components of the UC, the Committee recommended additional sub-categories of UC's regular programs to expand the opportunities available to the UC students and faculty such as travel grants for various purposes, and joint projects to enhance the graduate curriculum in agriculture and natural resources of the member universities in the UC network.