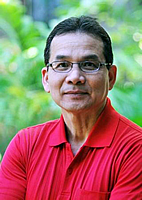 nov 4 2
Dr. Rex Victor Cruz, College of Forestry and Natural Resources (CFNR) dean, was officially proclaimed as the new and 8th Chancellor of UPLB by the UP Board of Regents on 29 September 2011.
Incoming Chancellor Cruz, who succeeds outgoing Chancellor, Dr. Luis Rey I. Velasco, will assume office starting 1 November 2011 until 31 October 2014.
His vision of One University, One Goal, One Destiny for UPLB, accordingly, will be guided by his five point thematic agenda which include 1) Governance for Growth and Unity;2) Innovation and Trans-disciplinary Programs for Excellence, Collaboration and Integration; 3) Resource Generation for Productivity and Sustainability; 4) Enhancing Support Systems for Empowerment and Inspiration; and 5) Extending the Reach of UPLB for Visibility, Partnership and Nation-Building.
He has also stated in his campaign that the essence of UPLB as a national university is being and will be defined by individual commitment to be of service to the country and the willingness to work together as one university pursuing one goal towards a common destiny as a genuine public service university, a relevant research university, and a growing graduate university.
Source: UPLB News | 03 October2011