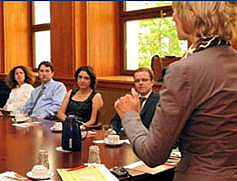 12
Starting March 2012, the Dubrovnik International University (DIU) and the Institute for Cultural Diplomacy (ICD) in Berlin, Germany will be offering the graduate Master of Arts program in International Relations and Cultural Diplomacy. The program will combine the traditional academic components of international relations with a new focus on the role of soft power and cultural diplomacy in contemporary global affairs.
More than just a discipline of Political Science or Political Theory, the 2-year International Relations and Diplomacy program is said to also dwell on the perspective of art and culture, economics, law, and other social sciences.
Further information on the program, including admissions requirements and deadline, can be found here.
Further information about the program curriculum is found here.