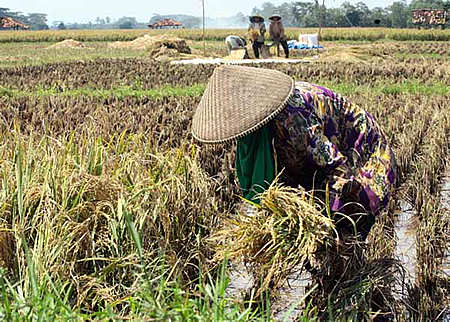 nov 4 3
The government should take side with the farmers as farmers now are always the victims, be it a victim of the price game, climate or weather and pest attacks. This was stressed by Dr. Rini Hidayati, Head of Department of Geophysics and Meteorology, Faculty of Mathematics and Natural Sciences of Institut Pertanian Bogor (IPB) during the Radio Republik Indonesia (RRI) Dialogue on 4 October 2011.
According to Dr. Hidayati, in recent years one of the main reasons farmers' fail to harvest is the uncertain or extreme climate;which includes severe droughts and heavy flood. Farmers who are unaware of the climate variability become powerless. Moreover, information provided by the Meteorology, Climatology, and Geophysics Agency (BMKG) on climate is only general in nature or global, and do not touch on specific aspects relevant to the farmers.
Dr. Hidayati said that the government's active participation in agriculture is necessary, now more than ever. With agricultural insurance, farmers need not take the burden of the loss brought about by failure to harvest due to extreme weather conditions. She believes that with the government's support in the form of information and knowledge of climate index as well as agricultural insurance, farmers will regain confidence in growing crops without the fear of crop loss.
Source: IPB News | 10 October 2011