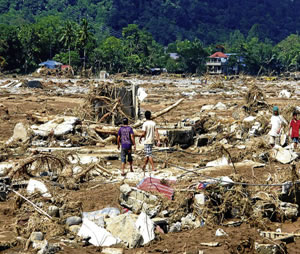 19 1
Farmers are likely to ignore the risks of further encroaching into upland forests because climate change is forcing them to, experts say.
Edwino Fernando, a forest botanist of the University of the Philippines Los Baños (UPLB), and Roberto Cereno, deputy director of the Makiling Center for Mountain Ecosystems, explored this scenario with officials of the Department of Environment and Natural Resources (DENR) during the first weeks of December 2011.
Reynald Yawan, Cordillera regional technical director of the Protected Areas Wildlife and Coastal Zone Management Service, said DENR and Department of Agriculture (DA) had been trying to stop the further expansion of farms in forests.
The DA invested in organically-grown indigenous rice for upland farms because these areas are now over-farmed, said Dante Delima, coordinator of DA's national rice program.
These farms, however, thrive because they have become sources of vegetables for high-end markets such as those in Metro Manila. Since the 1980s, any of these farms have displaced pine forests in Benguet and Mt. Province, often with the help of government roads that Fernando described as "arteries of destruction".
Since 2009, typhoons have dumped higher volumes of rainfall on the Cordillera, triggering erosions that destroyed upland farms.
But the impact of extreme climate change is an increase in temperature, "so upland farmers would need to penetrate more mossy forests to grow temperate vegetables," Cereno said.
In their book, Biodiversity and Natural Resources Conservation in Protected Areas of Korea and the Philippines, the UPLB experts said "the growing demand for vegetables and tamed law enforcement have encouraged more clearing and burning of mossy forests and [their] conversion into farms on a commercial scale."