Dr. Gil C. Saguiguit, Jr. succeeds the headship of the regional center from Dr. Arsenio M. Balisacan who completed his second term on 13 July 2009.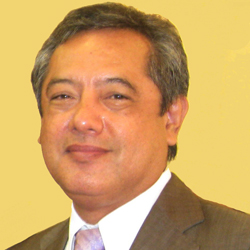 Dr. Saguiguit carries with him three decades of experience and institutional memory on SEARCA operations and programs. He began his career at SEARCA as a student assistant of the SEARCA-Harvard 928-B Corn Commodity Systems project in 1974. He rose through the ranks, occupying various technical and administrative positions in the Center. Most of his career in the Center has been spent developing and implementing collaborations in research and development with foreign and international partners and donors. He was appointed Head of the Environment and Rural Development Unit in 1991, Manager of the Research and Development Office in 1995, and Deputy Director for Administration in 2002, a position he held until his recent selection as SEARCA Director. As researcher and research manager, Dr. Saguiguit worked mostly on community-based natural resource management, north-south collaborative research, and agricultural and rural development.
Dr. Saguiguit has numerous published works and has presented papers in national and international fora and scientific conferences on the mentioned subjects. He has also received recognition and awards for his management and leadership of agricultural development projects. Currently, he is also member of the National Technical Panel on Agricultural Education of the Commission on Higher Education of the Philippines and has served on numerous advisory, management, and implementation bodies of development programs in the Philippines and other multi-country programs in Southeast Asia.
As Deputy Director for Administration of SEARCA, Dr. Saguiguit was at the forefront of efforts to improve the Center's operations, including the computerization of its financial management system as well as maintenance and renovation of SEARCA's physical structures. It was also during his watch as deputy that University of the Philippines Los Banos (UPLB) renewed its agreement with SEARCA to host the Center for another 25 years. Dr Saguiguit has been serving as the Center's Treasurer the past six years and has contributed to SEARCA's financial stability.
Dr. Saguiguit holds a doctorate in Rural Economics from the University of Montpellier in France, obtained through a French Government scholarship, and MS and BS degrees in agricultural economics and agriculture, respectively, from UPLB. He obtained his Masters degree under a scholarship provided by the Fellowship in the Region Program of the Netherlands Government. He has participated and attended many special trainings to hone his development skills and expertise including an Agribusiness Training from a Harvard program and the prestigious Beahrs Environmental Leadership Program (ELP) in the University of California-Berkeley, to name a few.
Dr. Saguiguit is the only son and namesake of the late Dr. Gil F. Saguiguit, Sr., renowned professor of agricultural education, institution builder, and one of the founding fathers of SEARCA.
Related News: Dr. Balisacan completes SEARCA Directorship