Details

Category: 2010
Tokyo, Japan--- Dr. Toshiro Matsuda, President of the Tokyo University of Agriculture Educational Corporation received the Royal Thai Decoration on 12 November 2009 at Tokyo University of Agriculture, Tokyo, Japan. The Royal Thai Decoration was granted to Dr. Matsuda in honor and recognition of his contribution to the advancement of agricultural research and development in Thailand up to the present.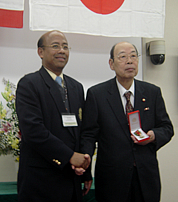 Dr. Matsuda led many projects under the Japan Society for the Promotion of Science (JSPS) as agricultural economist and President of TUA. The TUA was the core university for JSPS program in agricultural sciences. In his speech, Dr. Matsuda acknowledged the Decoration and informed the audience that he spent a lot of time in Thai rural villages to conduct agricultural research projects directed towards improving the welfare of small farmers. The JSPS projects that TUA conducted in Thailand were in cooperation with professors from Thai universities, including Kasetsart University (KU). The KU officially recommended Dr. Matsuda for the Decoration, which was presented to him by Dr. Sornprach Thanisanwanyankura, KU's Vice President for International Affairs.
Officials of the Executive Board of the Southeast Asian University Consortium for Graduate Education in Agriculture and Natural Resources witnessed the awarding ceremony. Kasetsart University is one of the founding members of the University Consortium(Written by E. C. Cedicol with inputs from Dr. Akimi Fujimoto).