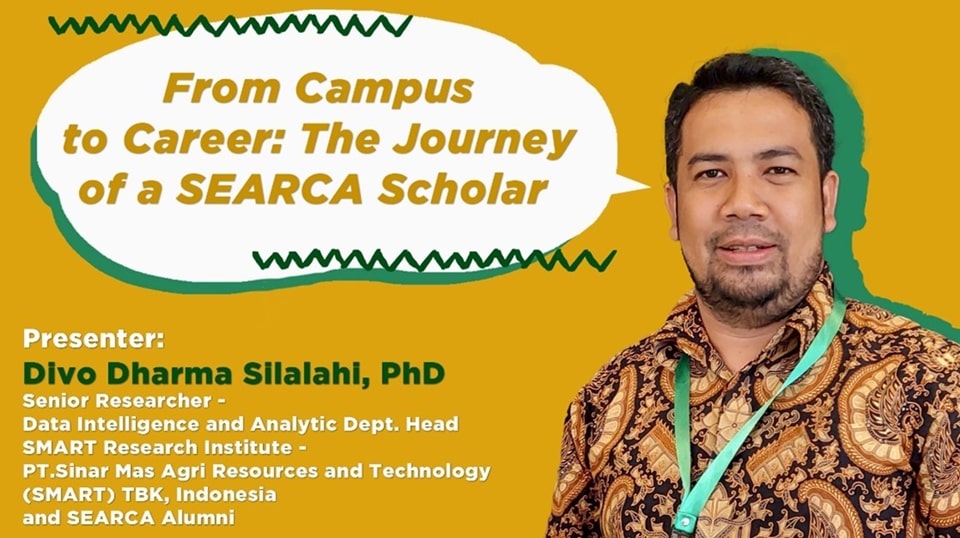 Dr. Divo Dharma Silalahi, a Southeast Asian Regional Center for Graduate Study and Research in Agriculture (SEARCA) alumnus, inspired his juniors during the fifth GSID Conversations organized by the Education and Collective Learning Department (ECLD) on 28 April 2023. Divo is a senior researcher and the head of the Data Intelligence and Analytic Department of SMART Research Institute-PT. Sinar Mas Agri Resources and Technology (SMART) TBK in Indonesia. He graduated from the Universiti Putra Malaysia (UPM) under a SEARCA scholarship for his PhD in applied and computational statistics.
During his talk, he shared his experiences and challenges while studying, and his transition from being a student to becoming a leader.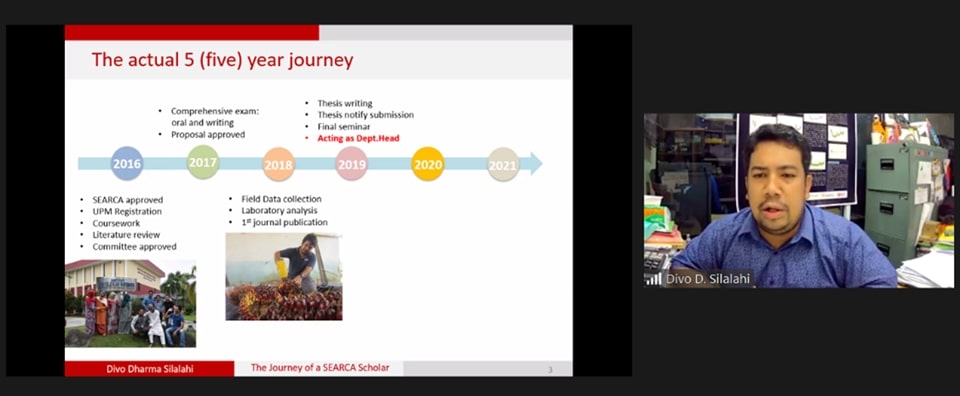 Divo started his studies in 2016 and graduated after five years, which was during the pandemic. Reflecting on his experience, he assured the scholars that extending their studies should not discourage them nor be seen as a failure, despite the timeline set by the SEARCA scholarship. Instead, scholars should find ways to address the factors impeding their graduation and be proactive in finding additional funding.
Divo highlighted the importance for scholars to establish a good relationship with their academic supervisor. He said that scholars must inform their supervisor about the conditions of their scholarship, especially the time limit, as supervisors often recommend additional requirements for their advisees. These added requirements may cause delays in the scholars' graduation; hence, it is essential that they discuss with their supervisors the necessary research activities to get their degrees. The scholars and their supervisors can also consider collaborating in more research activities after graduation. In Divo's experience, more articles were required from him besides UPM's mandated two journal article publications to get the PhD degree.
Through a visual representation, Divo showed his stress levels during his PhD journey and the activities associated with it. Through the graphs, the scholars could anticipate the tasks that would demand a lot from them, such as completing their graduation requirements, finishing their dissertation, and taking the final exam. As a scholar, the biggest challenge Divo faced was maintaining high grades and complying with the scholarship requirements. After graduating, Divo found it challenging to meet the expectations of his home institution, manage his work-life balance, and build strong professional networks upon his appointment as a department manager at one of the largest, publicly listed, and integrated Indonesian palm-based consumer companies. He shared that scholars must prepare thoroughly before returning to their home institutions or applying for a new position. He added that it would greatly help the scholars if they could develop practical skills such as interpersonal communication, must stay updated with the latest trends in their field, and could build their online presence through career-based websites such as LinkedIn.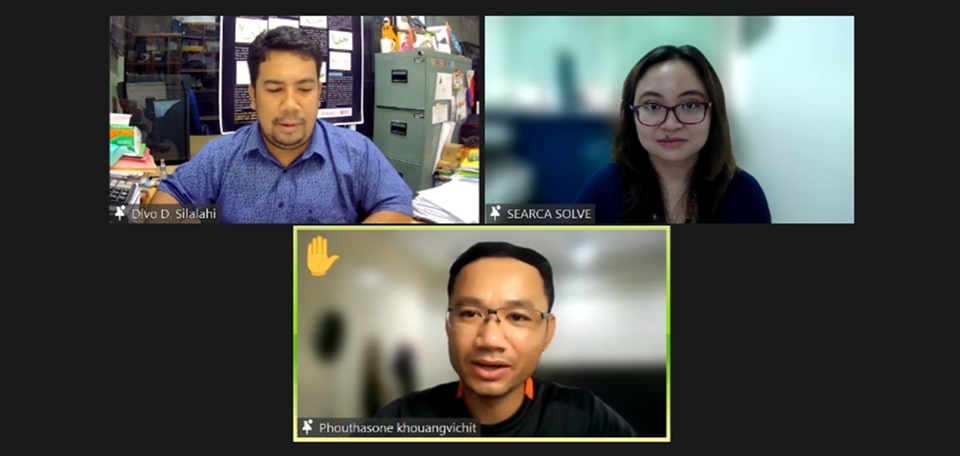 Divo reminded the scholars of their promise to SEARCA that they would return to their home country upon graduation and serve their nation and community. He ended his talk by encouraging scholars to stop panicking, keep fighting, stay motivated, and love life.
SEARCA started offering the GSID Conversations online at the onset of the pandemic to support its scholars' personal and professional development. Aside from the GSID Conversations, SEARCA also conducts online and hybrid annual customized training programs to build the scholars' competence and enable them to graduate on time. The Center also provides seminars and conferences to support the scholars' academic milestones and recognize their capacity to produce quality research that significantly impacts agriculture-related fields. All these activities are part of the Center's bigger, better, and smarter scholarship package designed to foster well-rounded and resilient scholars.