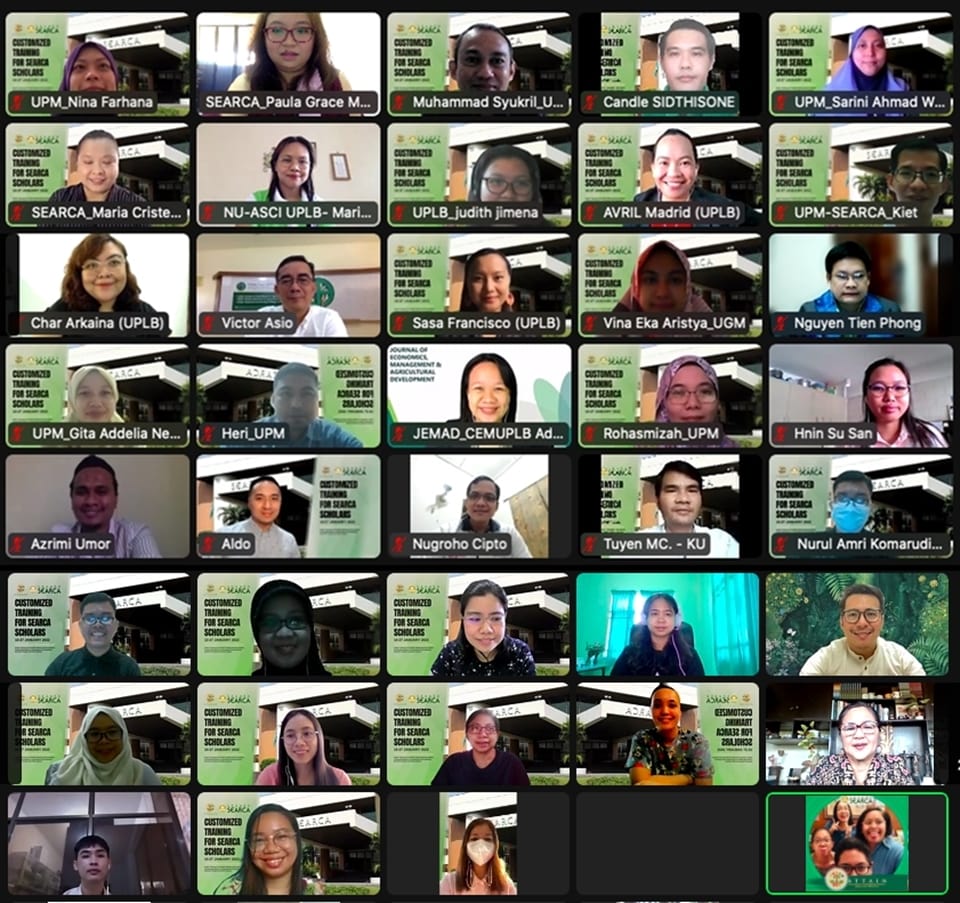 SEARCA, through the Education and Collective Learning Department (ECLD), organized the Online Training on Scientific Writing and Presentation and the Online Training-Workshop on Quantitative and Qualitative Research Designs and Data Analysis from 10-25 January 2022 as part of the Customized Training for SEARCA scholars and grantees. The training aims to build the capacity of future agriculture leaders and professionals and enhance 21st-century skills. The University of the Philippines Los Baños (UPLB) College of Development Communication (CDC) will serve as Training Coordinators for the programs.
Eleven participants registered for the Training-Workshop on Quantitative and Qualitative Research Designs and Data Analysis. This training workshop provides participants an overview of concepts and principles in research design alternatives, encompassing elements like units of analysis, types of data, methods, and some ethical issues in the context of experiments, surveys, qualitative, evaluation, and policy research. The participants will also learn about analyzing data gathered from different methodological frameworks. Recognizing the critical role of close guidance when graduate students embark on their theses/dissertation, the training workshop is primarily coaching/mentoring-based. Resource Persons from UPLB's Institute of Statistics and industry experts will join CDC in conducting the training program.
Thirty participants signed up for the Training-Workshop on Scientific Writing and Presentation. This training workshop aims to improve competence in scholarly communication by deepening knowledge of the core features of the scientific writing style. The course will enable the candidates to write clear, detailed, and well-structured scientific texts appropriate to a suitable academic journal. In addition, they will develop skills for self-editing and revision techniques, including editing for precision and clarity. They will also gain a deeper understanding of how to prepare a scientific paper using the IMRAD (introduction, methods, results, and discussion) format. The candidates will develop an enhanced understanding of the concept of academic integrity and the ethics of scientific writing to overcome anxiety about academic publishing and get their research papers published in international journals. Besides the CDC faculty members, the training coordinators also invited the managing editors of journal publications for a meet-and-greet panel discussion.
A short opening program was held on 10 January 2022 attended by all the participants and the training team. Dr. Maria Cristeta N. Cuaresma welcomed the scholars and shared that the SEARCA scholarship does not only give monetary benefits but also builds the capacities of individual scholars and their home institution as part of Accelerating Transformation through Agricultural Innovation (ATTAIN). SEARCA also organizes social activities such as teambuilding trips and meetings. However, the pandemic shifted the activities online, including the training programs.
Dr. Benjamina Paula G. Flor, OIC Dean of CDC-UPLB, also attended the opening program and inspired the scholars to finish their degrees despite the challenging times. Dr. Flor advised that the scholars' first concern in their research should be what they would like to be known for -it should be something they are passionate about, and most importantly, it should not be what their adviser just told them. Dr. Flor shared four tips in doing research during the pandemic: focus, keep a proper mindset, choose a research method that can be done online or through secondary data analysis, and motivate yourself. Dr. Flor wished the attendees the best in their research and hopefully, their graduation.
The attendees also met Asst. Prof. Rosa Pilipinas F. Francisco and Mr. Miguel Victor T. Durian, University Extension Associate II and Affiliate Assistant Professor of CDC who will serve as training coordinators for the Quantitative and Qualitative Research Designs and Data Analysis. For the Scientific Writing and Presentation, the scholars got to know Asst. Prof. Avril Adrianne Madrid and Ms. Charlene Mae B. Arkaina, University Extension Specialist, CDC.
SEARCA has been organizing training workshops for scholars to equip them in accomplishing their academic requirements and prepare them for their future roles as champions of inclusive agriculture and innovations for development. Other training programs offered include the Basic English Course for New Scholars, and the Writing Thesis/Dissertation Proposals.