The Education and Collective Learning Department (ECLD) of SEARCA organized the 4th GSID Conversations on 16 December 2022 (Friday), 10:00 AM (GMT +8:00), for scholars to talk about mental health problems and its prevention. The webinar was exclusively offered for scholars as part of SEARCA's non-monetary scholarship benefits and on top of the annual customized training programs on English proficiency, writing thesis proposals, conducting data analysis, or other academic or technical concerns. Through the GSID Conversations, SEARCA wants to explore other areas that may interest the scholars or benefit them in their professional and academic development as they are poised to become future leaders of agriculture and rural development in the region.
Prof. Dr. Firdaus Mukhtar, Professor of Clinical Psychology and Deputy Dean for Admission, Institutional Relations & Financial Aid Unit at the School of Graduate Studies, Universiti Putra Malaysia, and the President of the Asian Cognitive Behavior Therapies Association, served as guest speaker for the event. She provided her expert advice on mental health, the symptoms for self-monitoring, and the basis if and when it is time to seek help.
Prof. Dr. Firdaus recognized that the onset of the pandemic and the unique pressures of graduate studies affect the mental health wellness of scholars. She provided an overview of mental health and its difference from mental illness. Prof. Dr. Firdaus likewise shared the red flags to look out for and the different kinds of mental illness and disorders. An important part of the discussion is on the step-by-step treatment and the professionals that the scholars may approach depending on their needs. After the discussion on understanding mental health and disorders, Prof. Dr. Firdaus shared some exercises that scholars can practice to help them cope. This includes slow and deep breathing exercises, creating a plan or to-do list, and joining social, recreational, educational, nurturing, and entertainment activities. Prof. Dr. Firdaus closed the discussion with a video presentation on the 5-4-3-2-1 coping technique for anxiety.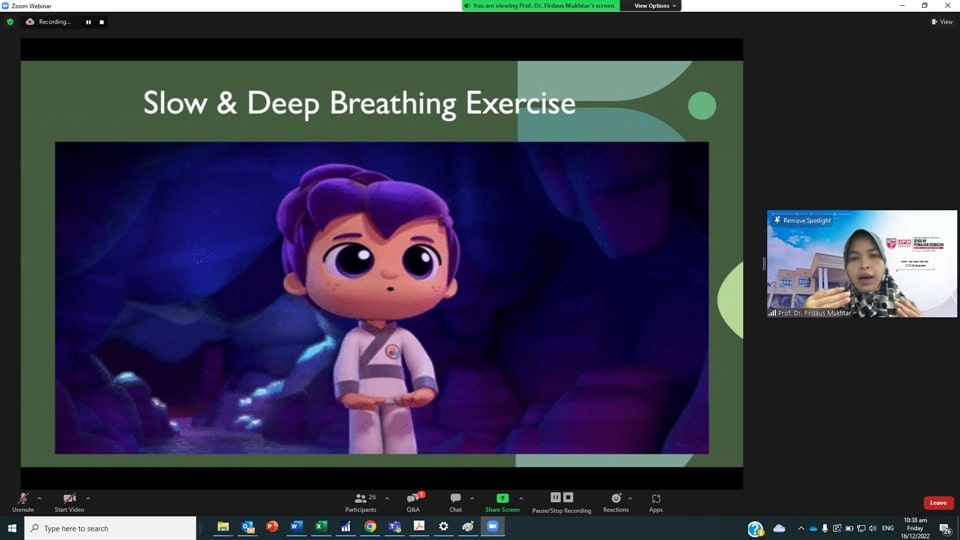 SEARCA reminds the scholars that if they feel down, and depressed, miss their family back home, cannot keep up with the fast pace of their studies, and feel like giving up, they are not alone. Prof. Dr. Firdaus has shared ways how to keep mentally healthy and as the scholarship provider, SEARCA's doors are always open to accommodate the needs of the scholars.