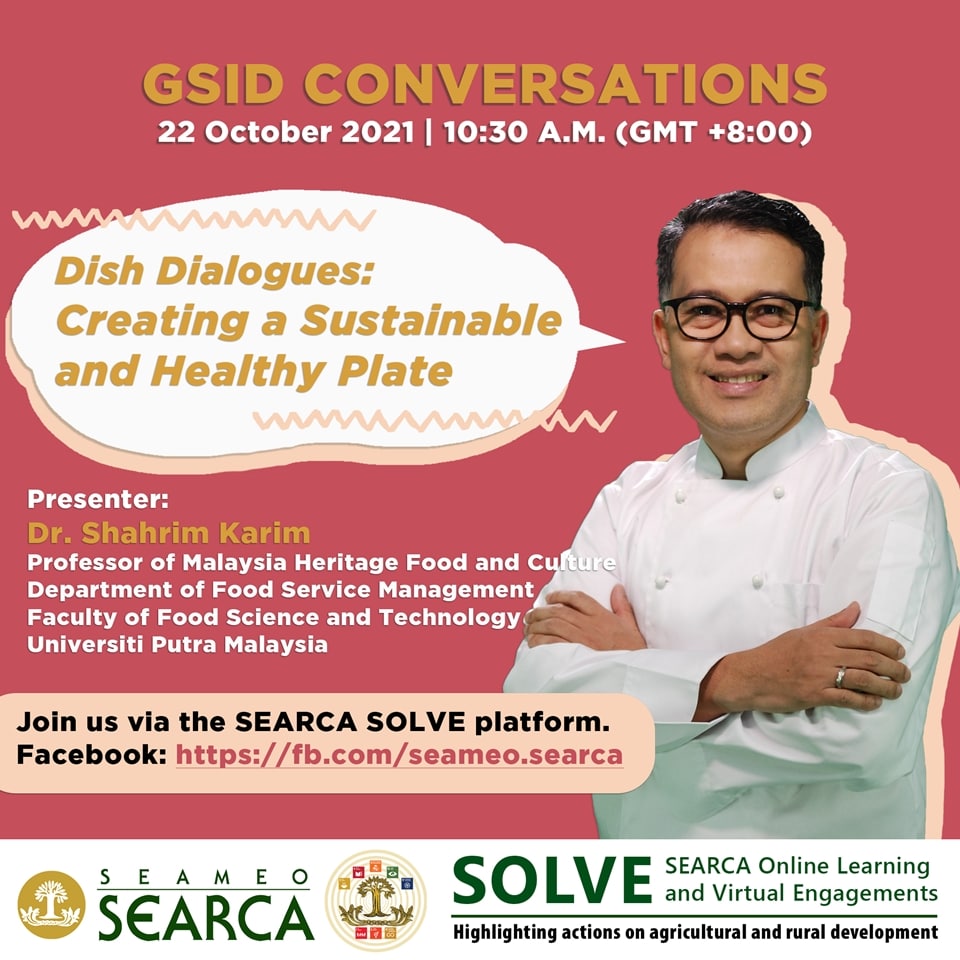 SEARCA kicks off its 55th anniversary celebration this Friday, 22 October 2021 through the conduct of Dish Dialogues: Creating a Sustainable and Healthy Plate at 10:30 AM (GMT +8:00) via its SOLVE platform. The event is also in celebration of the World Food Day with the theme "Our actions are our future- Better production, better nutrition, a better environment, and a better life."
SEARCA invited Prof. Dr. Shahrim Karim, Professor of Malaysia Heritage Food and Culture, Department of Food Service Management, Faculty of Food Science and Technology, Universiti Putra Malaysia (UPM) to discuss sustainable and healthy consumption of food. Prof. Dr. Shahrim is also a prolific author, researcher, and TV host who champions Malaysian heritage food. He will feature a dish called Asam Rebus Keladi with Fish (Sour and Spicy Yam Stew with Fish) accompanied by sambal belacan (shrimp paste sambal) for the event. Prof. Dr. Shahrim selected this dish because its main ingredient, yam, is very popular, highly nutritious, and is savored in many countries in Asia.
DAAD-SEARCA Scholar, Ms. Gita Addelia Nevara, will also be featured in the event and she will share her perspective and ongoing research on sustainable and healthy consumption. Gita is currently a PhD Candidate under the Department of Food Science, Faculty of Food Science and Technology, UPM.
The event is part of the ongoing GSID Conversations series organized by SEARCA's Education and Collective Learning Department and hosted in the SEARCA Online Learning and Virtual Engagements (SOLVE) platform using Zoom and will be broadcasted live through FaceBook.
Watch the event live on: https://fb.com/seameo.searca