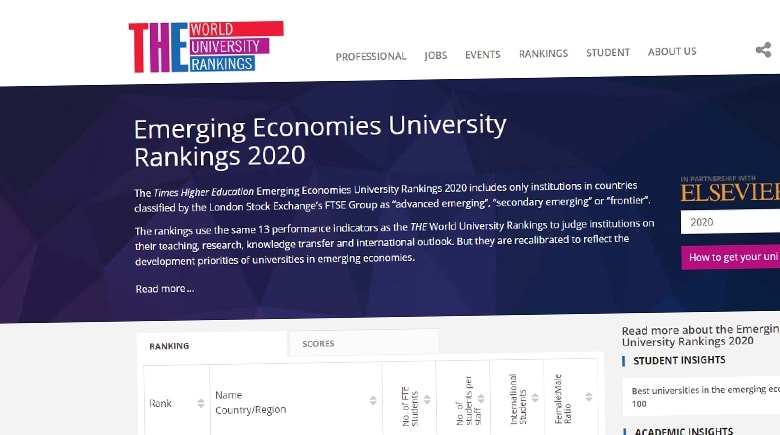 Members of the Southeast Asian University Consortium for Graduate Education in Agriculture and Natural Resources (UC) initiated by the Southeast Asian Regional Center for Graduate Study and Research in Agriculture (SEARCA) are among the top universities around the world according to the Times Higher Education (THE) Emerging Economies University Rankings of 2020.
The list features the 533 best universities from 47 countries. The London Stock Exchange's FTSE Group categorized these countries as "advanced emerging," "secondary emerging" or "frontier."
The National Taiwan University (NTU) is the 8th best university, while the University of the Philippines (UP) ranked 70th and Universiti Putra Malaysia, 106th.
Universities that placed after 200 are given ranges instead of rankings.
Universitas Gadjah Mada (UGM) in Indonesia placed among the universities in the top 251-300. Kasetsart University (KU) in Thailand and Institut Pertanian Bogor (IPB) in Indonesia also landed in the list, placing in the top 301-350. Universitas Brawijaya (UB) in Indonesia was also listed in the 501+ range.
The THE Emerging Economies University Rankings measured the universities based on teaching, research, knowledge transfer, and international outlook.
Among the criteria, IPB ranked the highest among the UC members in terms of Industry Income with a score of 70.7, besting even NTU with a score of 65.4 in this criterion.
In fact, among the five criteria, Industry Income is where NTU, IPB, UGM and KU scored the highest. On the other hand, UPM scored the highest in International Outlook with 69.3, while UP scored the highest in Citation with 86.9.