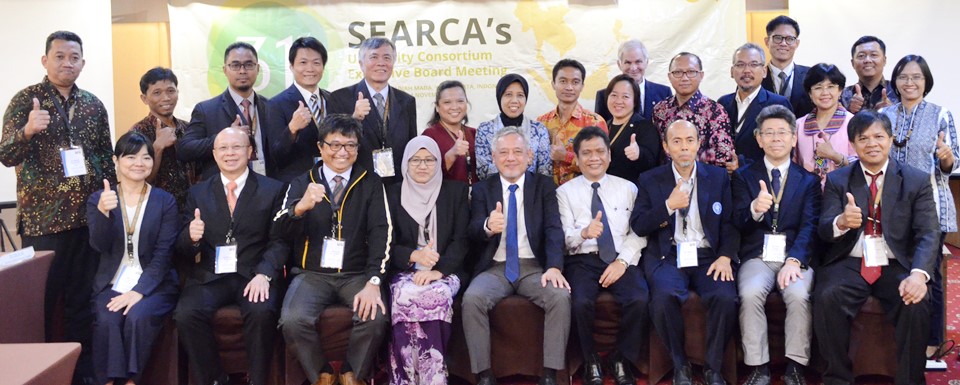 YOGYAKARTA, Indonesia – Twenty-one officers of the Southeast Asian University Consortium for Graduate Education in Agriculture and Natural Resources (UC) converged here for the 31st UC Executive Board meeting hosted by Universitas Gadjah Mada (UGM) on 13 – 14 November 2018.
During the meeting, the UC welcomed Canada's University of British Columbia (UBC), which recently reactivated its Affiliate Membership, and National Taiwan University (NTU), which expressed intention to apply as an Associate Member. Aside from UGM, UBC and NTU, also present in the meeting are representatives from the other UC members, namely, Institut Pertanian Bogor and Brawijaya University of Indonesia, Kasetsart University of Thailand, Universiti Putra Malaysia, University of the Philippines Los Baños, and Tokyo University of Agriculture. The Southeast Asian Regional Center for Graduate Study and Research in Agriculture (SEARCA) serves as UC Secretariat and co-organizer of the meeting.
The Executive Board reviewed the accomplishments of the UC in the current year and planned for its programs and budget for the succeeding year. It also discussed updates and a sustainability strategy for the ERASMUS+-funded project on establishing a Joint Master program in Food Security and Climate Change (MSFSCC).
Through SEARCA's initiative, the UC was launched in 1989 as a commitment made by leading agricultural universities to share resources and collaborate on student and faculty exchanges. It gives out annual student and faculty grants, and holds annual Summer Schools and Graduate Forums hosted by its members on rotation basis. The UC also supports dual or joint degrees and collaborative researches among its members, and partners with other networks and universities in and outside the region. (Maria Cristeta N. Cuaresma)