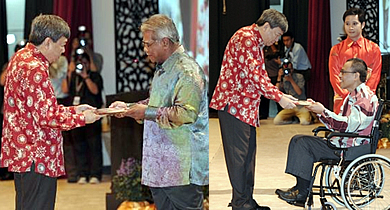 Universiti Putra Malaysia (UPM) bestowed the "Putra Special Academic Award," to two of its former Vice-Chancellors, in recognition of their outstanding contributions to the development and advancement of the university and the nation.
The two former Vice-Chancellors, Prof. Dato' Ir. Dr. Radin Umar Radin Sohadi and Prof. Tan Sri Datuk Dr. Nik Mustapha R. Abdullah, received the award from the Sultan of Selangor and UPM Chancellor, Sultan Sharafuddin Idris Shah.
The recognition was given during the award ceremony called "Majlis Gemilang Academia Putra - MGAP," which also conferred the Vice-Chancellor's Fellowships Award 2012 to 13 academic and 2 non-academic staff of the university, while another academician received the Outstanding Consultant Award.
"This is in line with the mission of the university to give meaningful contributions towards the creation of wealth and development of the nation and people through the exploration and dissemination of knowledge," said Prof Datuk Dr Mohd Fauzi bin Haji Ramlan, UPM Vice-Chancellor.
"These efforts will also boost UPM's excellence and create a positive image at the global stage towards making us a university of international repute," he added.