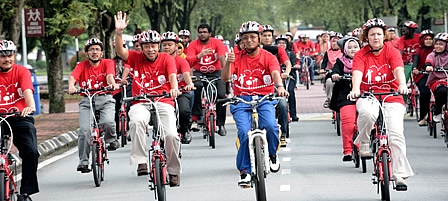 The Universiti Putra Malaysia (UPM) received a 2-year project grant from Coca-Cola Malaysia to implement the project Recycle to Cycle, which encourages students to ride bicycles, help reduce carbon emission, and foster a more active lifestyle. Aside from providing the bikes, the project will also setup a material recycling facility on the campus.
The Recycle to Cycle Project, initiated by Prof. Ahmad Ismail of the Department of Biology, Faculty of Science also aims to make the campus a cycling zone.

Gill McLaren, Coca-Cola's Regional General Manager for Malaysia-Singapore-Brunei, said it was the first project of its kind in Malaysia and in line with Coca-Cola's goal to build sustainable communities through conservation and care of the environment.

The students can participate in the project by recycling bottles and aluminium cans to earn points which can then be used to rent a bike. Bottles and cans will be sold to the recycling center while the money generated will help sustain the program.

UPM Vice Chancellor, Prof. Datuk Dr. Mohd Fauzi Ramlan said that at present, only the Faculty of Medicine and Health Sciences and the Faculty of Engineering have started walking and cycling to school. "With this project, we are targeting 3,500 students to walk and bike ride around campus by September," he said.
Source: UPM News | 20 February 2013