Rengginang is a favorite traditional glutinous rice cracker snack in Indonesia. The production of this snack using a special machine operated manually requires time and patience resulting inlow production output.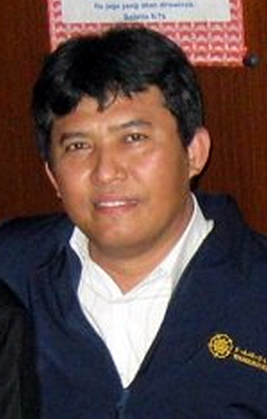 Ir. Priyanto Triwitono, a lecturer of the Department of Agricultural Products Technology, Universitas Gadjah Mada (UGM), was motivated to improve the efficiency and productivity of rengginangby developing a rengginang maker.

The rengginang machine developed by Mr. Triwitono is capable of producing up to two times more rengginang than the manual process. He said that the machine produces 4-5 pieces of rengginang per minute or about 240-300 per hour as compared to 2 pieces per minute or 120 pieces per hour manually. "The capacity of the machine is at least 50 kg per day. With this machine, one kilogram of steamed glutinous rice can produce approximately 110-120 pieces of rengginang,"Mr.Triwitono said.
The machine is quite practical and can be operated by anyone, including beginners or non-experts. It is able to make rengginangs with exactly the same size, specifications and texture. Mr. Triwitono explained that his machine provides the same amount of pressure regardless of the operator so the rengginang is more solid, not easily broken and retains its shape.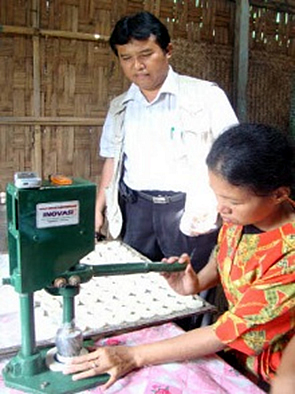 The machine is operated without electricity or fuel, making it cost efficient. According to Mr. Triwitono, the working principle of the machine is adopted from that of a bottle lid. He explained that this device consists of a body/frame made of cast iron, the pole of the iron axle, wooden suppressor, ahandle to press the rengginang, atable holder, and a wooden press board containing hard pipe pieces.
He added that to make rengginangs using this machine, the following procedure should be followed: (1) Place the steamed glutinous rice into the pressing board;(2) Suppress/compact the rengginangby pulling down the handle; and (3) Remove the rengginangfrom the mold to dry. Mr. Triwitono said that he had developed different shapes of moldfor the rengginang such as circle, square, and rectangle.
This rengginang press has recently been mass-produced and is marketed at 2.5 million rupiah per machine.
SOURCE: UGM News|January 26, 2012