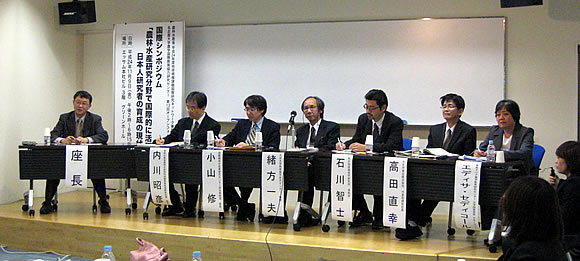 26-2
Challenges to agricultural human resources development were examined during the International Symposium on "Human Resource Development in Agricultural Science: Towards Fostering Japanese Researchers to Play an Active Role in International Agricultural Research" organized by the International Cooperation Center for Agricultural Education (ICCAE) based in Nagoya University, Japan. The symposium was held in Tokyo, Japan on 9 November 2012 and was attended by professors and key officials from different Japanese agricultural universities, as well as from the Japanese Ministry of Agriculture, Forestry and Fisheries (MAFF), Japan International Cooperation Agency (JICA), Japan International Research Center for Agricultural Sciences (JIRCAS), Research Institute for Humanity and Nature, Japan Intellectual Support Network for Agricultural Science (JISNAS), and private sectors. The symposium was part of project on the same theme by the MAFF.
Dr. Akira Yamauchi, Director of ICCAE and professor of Nagoya University Graduate School of Bio-Agricultural Sciences, expressed the need for Japanese universities to beef up efforts in internationalization of education and enhance the capacities of Japanese graduates and young scientists/researchers to be able to compete for technical jobs as well as management of research projects at the international level. It was the general observation that most Japanese graduates of agriculture are technical specialists and are very good at doing research.
Dr. Editha C. Cedicol, Program Head of the Graduate Scholarship Department of the Southeast Asian Regional Center for Graduate Study and Research in Agriculture (SEARCA), served as one of the symposium resource speakers and panelists. Other speakers and panelists were Mr. Osamu Koyama, Director of Research Strategy Office of JIRCAS; Mr. Teruyoshi Kumashiro, Director General, Rural Development Department of JICA; Dr. Kazuo Ogata, Professor of Institute of Tropical Agriculture, Kyushu University; Mr. Naoyuki Takada, President of Katagi Foods Co, Ltd., Dr. Satoshi Ishikawa, Associate Professor of the Research Institute for Humanity and Nature, and Dr. Shuichi Asanuma, Professor, ICCAE, Nagoya University.
Some challenges to agricultural HRD that were highlighted during the symposium include the following: aging agriculture research/scientific and academic staff; high staff turnover; wide age and qualifications gap in the succession hierarchy; low budget for research and training activities; outdated curricula not addressing agricultural HRD needs of the times; outmoded research and academic facilities; agriculture as a profession is not attractive to students; agriculture graduates are not well-equipped with knowledge, skills and attitudes to compete globally. The review of curriculum, training and conferences, study tours, academic mobility, mobilization of alumni, and short-term attachments in projects such as SEARCA's institutional development assistance projects with Myanmar, Cambodia, and Lao PDR are some options presented by Dr. Cedicol at the symposium. The need to forge alliances with other networks and strategic partners as well as to put more budgets in collaborative research projects were noted by the representatives of Japanese agencies.