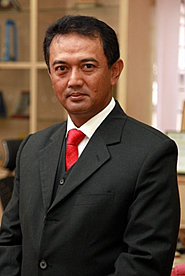 Malaysia's Ministry of Higher Education (MOHE) announced the appointment of Prof. Datuk Dr. Mohd Fauzi Hj. Ramlan, 52, as Universiti Putra Malaysia's (UPM) new Vice Chancellor for a three-year term from 1 January 2013 to 31 December 2015.

Prof. Datuk Dr. Mohd Fauzi Hj Ramlan, succeeds Prof. Dato' Ir. Dr. Radin Umar Radin Sohadi, who has served as Vice Chancellor and UPM's Chief Executive Officer to the University Consortium since January 2011.

According to the Minister of Higher Education, H.E. Dato' Seri Mohamed Khaled Nordin, "the selection of Prof. Datuk Dr. Fauzi Hj Ramlan as UPM's vice chancellor took into account his experience in the academe, research, extension, as well as his previous post as the Deputy Vice Chancellor (Student Affairs and Alumni) of UPM."

"His appointment as the new VC will hopefully bring UPM to greater heights both domestically and in the international arena," he furthered.

With the new Vice Chancellor, the ministry likewise hopes that UPM can set its focus on the issue of food security both in the country and in the global context.

Prof. Datuk Dr. Fauzi Ramlan was born on 15 October 1960 in Johor. He completed his Diploma in Agriculture from UPM, Bachelor of Science (Agronomy) from Iowa State University, Master of Science from Louisiana State University and PhD. (Biology) from University of York.

Dr. Fauzi is an agriculture Professor at UPM since 29 April 1986 prior to his appointment as the Deputy Vice Chancellor (Student Affairs and Alumni) in the same university. At some point in his career, he was the Director of the Higher Education Department, Ministry of Higher Education, Malaysia, in charge of Student Management and Development Department. He was likewise conferred the Darjah Kebesaran Johan Setia Mahkota (J.S.M) in 2009, Darjah and Pingat Kebesaran Negeri Melaka - Darjah Mulia Seri Melaka (D.M.S.M) in 2011, which carries with it the title, Datuk.
Condensed from: UPM News|3 January 2013