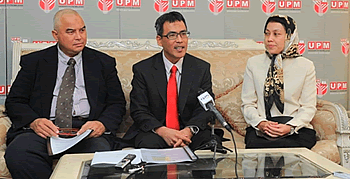 31 1
SERDANG, 1 August - Universiti Putra Malaysia (UPM) is now the first university in Malaysia to obtain accreditation in business from the Association to Advance Collegiate Schools of Business (AACSB), the world's largest accreditation association for business schools and universities.
AACSB International President and Chief Executive Officer, John J. Fernandes, announced the accreditation of UPM's Putra Business School and the Faculty of Economics and Management through their website at www.aacsb.edu.
Other international universities recognized by AACSB include the University of Texas at Brownsville (USA), Chongnam National University (South Korea), Dongguk University (South Korea), Istanbul University (Turkey), Peking University (China), Providence College (USA), and West Texas A & M University (USA).
Fernandes said that AACSB accreditation is the highest achievement for an educational institution that offers business degrees. The accreditation is a sign of excellence in business, which at present has been achieved by only 655 business schools in 44 countries.
UPM was audited by the AACSB Peer Review Team (PRT) on 27 to 30 May 2012. With the successful audit, UPM becomes the sixth university in Southeast Asia to receive AACSB Accreditation.
According to UPM Vice Chancellor Dato 'Ir. Dr. Radin Umar Radin Sohadi, less than five percent of business schools worldwide are accredited with the AACSB. With UPM's accreditation, a new benchmark for the quality of tertiary education in Malaysia has been set.
Sohadi, in particular, commended the management and staff of the Putra Business School and the Faculty of Economics as well as the strong support of Malaysia's Ministry of Higher Education for this milestone. With its international recognition, UPM's image, quality, and reputation is enhanced.
UPM joins an elite group of the world's top business schools that are accredited by AACSB including the London Business School, University of Pennsylvania, Harvard University, Yale University, Columbia University, Warwick Business School, and the University of Toronto.
Source: UPM Media|1 Aug 2012