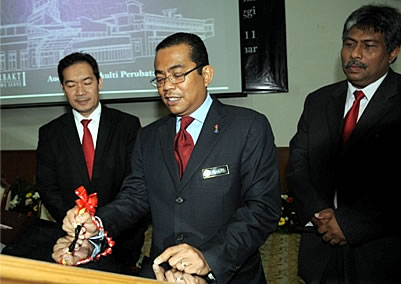 19 3
SERDANG - The Veterinary Medicine Faculty Complex, which boasted UPM's University Veterinary Hospital (UVH) as the most advanced veterinary hospital in Southeast Asia, was launched in November 2011. Minister of Higher Education, Dato' Seri Mohamed Khaled Nordin was invited as guest of honor in the said launching.
The Deputy Vice Chancellor (Research and Innovation), Prof. Ir. Dr. Mohd. Saleh Jaafar, said that it is the first veterinary teaching hospital in Malaysia equipped with facilities that fulfil international standards.
Assoc. Prof. Datuk Dr. Bashir Ahmad Fateh Mohamed, Dean of the Faculty of Veterinary Medicine said that the complex includes an Academic Block which consists of 4 teaching laboratories, 5 lecture halls, 13 tutorial rooms, an anatomy museum, an auditorium, a computer laboratory, a seminar room and a library which can accommodate 1,000 students including staff. The hospital also includes 12 diagnostic laboratories, 7 operation theaters, a Large Animal Unit, a Small Animal Unit, a Surgery Unit, theatres, a mobile clinic, a pharmacy unit, and also a radiologist and imaging unit.
Both small and large animal wards can accommodate up to 40 and 80 animals, respectively, and can handle at most 50 cases per day. While the wards are open to the public from 8:30 AM to 4:30 PM daily, there is a mobile clinic that operates 24 hours-a-day.
"There are 50 consultants, 22 veterinary officers, and 60 support staff from various categories working in this hospital which has started operating since January this year," Dr. Jaafar explained.
The Faculty of Veterinary Medicine, through the University Veterinary Hospital, has the potential to holistically lead the needs of the country in overcoming infectious diseases which would harm human beings besides providing specific services in veterinary medicine, surgery, and diagnostic laboratories.
"The employability of Veterinary Medicine graduates is very high. For example, the Veterinary Services Department in Malaysia is still in need of 120 veterinarians to fulfil the long-vacant positions," Dr. Jaafar said.
In the near future, Dr. Jaafar also proposed that the curriculum of the Malaysian veterinary program be accredited internationally to ensure that their graduates will be recognized worldwide.
The Veterinary Medicine Faculty, which was built in 1973, has produced many experts and doctors in veterinary medicine for Malaysia and played an important role in the country's knowledge transformation in the veterinary area. This faculty is the first higher education institution to obtain an accreditation in teaching, research, and professional services through MS ISO 9001 in 2000 and MS ISO/IEC 17025 in 2008.
During the launching ceremony, two memoranda of understanding (MoUs) were signed between the faculty and Malaysian Veterinary Services Department (JPV), and with the World Wide Fund for Nature Malaysia (WWF Malaysia). These MoUs focussed on teaching, research, and professional services activities that could benefit both parties.
Condensed from: UPM News | 1 Nov 2011