Tokyo, Japan--The Executive Board of the Southeast Asian University Consortium for Graduate Education in Agriculture and Natural Resources (UC) held its 22nd meeting at the Tokyo University of Agriculture (TUA) in Tokyo, Japan on 12-13 November 2009.
During the meeting, the following new collaborative projects were approved for implementation starting 2010: 1) The Dissertation Doctorate Program Scholarships for the University Consortium, two slots of which will be jointly funded by the TUA and the University Consortium, and one slot to be jointly funded by the TUA and the Southeast Asian Regional Center for Graduate Study and Research in Agriculture (SEARCA); and 2) Research-based internship program of four University of British Columbia (UBC) students taking up the Master of Food Science and the Master of Food Resource Economics to be hosted in any of the University Consortium members.
Aside from the new projects, the UC Executive Board also approved the management and financial reports of the UC Secretariat; and the planned activities for 2010 as follows: 1) hiring of contractual UC Secretariat staff on an output basis to assist in coordination of UC activities and in developing project proposals for the UC; 2) student and faculty exchanges; 3) thesis grants; 4) production of a new UC brochure and poster; 5) information dissemination activities; and the 5) conduct of the 23rd UC Executive Board Meeting. The Board also discussed the possibility to develop an international masters course to be offered by UC members.
The awarding of the Royal Thai Decoration to TUA Educational Corporation President, Dr. Toshiro Matsuda, coincided with the UC meeting in TUA on 12 November 2009. The Decoration was granted to Dr. Matsuda in honor and recognition of Dr. Matsuda's contribution to the advancement of agricultural research and development in Thailand up to the present. All participants of the UC Executive Board meeting and faculty and staff of TUA witnessed the awarding ceremony.
The University of the Philippines Los Baños will be the host of the 23rd UC meeting tentatively scheduled on the second week of November 2010.
Participants of the meeting were Dr. Herry Suhardiyanto, Rector; Dr. Khairil Anwar Notodiputro, Dean of Graduate School, Dr. Rinekso Soekmadi, Director, Directorate of Collaboration and International Programs, all from Institut Pertanian Bogor, Indonesia; Dr. Triwibowo Yuwono, Dean, Faculty of Agriculture; Dr. Arman Wijonarko, Vice Dean of Collaboration and Student Affairs, Faculty of Agriculture; and Dr. Masyhuri, Director, Center for World Trade Studies, all from Universitas Gadjah Mada, Indonesia; Dr. Nik Mustapha Raja Abdullah, Vice Chancellor, and Dr. Hasanah Mohd. Ghazali, Dean, School of Graduate Studies, both from Universiti Putra Malaysia; Dr. Sornprach Thanisawanyankura, Vice President for International Affairs, Dr. Somsakdi Tabtimthong, Director, International Affairs Division, and Dr. Norongchai Pipattawanong, Director of Agro-Ecological System Research and Development Institute, all from Kasetsart University, Thailand; Dr. Oscar B. Zamora, Dean of Graduate School, and Dr. Cristeta N. Cuaresma, Secretary of Graduate School, both from the University of the Philippines Los Baños, Philippines; Dr. Mahesh Upadhyaya, Associate Dean, Faculty of Agricultural Sciences Graduate Studies,University of British Columbia, Canada; Dr. Richard Williams, Professor and Coordinator, Faculty International Programs, Faculty of Natural Resources, Agriculture, and Veterinary Science, University of Queensland, Australia; Dr. Ohsawa Kanju, President, Dr. Akimi Fujimoto, Director of International Programs, and Dr. Mariko Uehara, Deputy Director of International Programs, all from the Tokyo University of Agriculture, Japan; Dr. Gil C. Saguiguit, Jr., Director; and Dr. Editha C. Cedicol, Manager of Graduate Scholarship Department, both from the SEAMEO SEARCA.
The UC was established in September 1989 at SEARCA, College, Laguna, Philippines. Its founding members are Institut Pertanian Bogor (IPB) and Universitas Gadjah Mada (UGM) in Indonesia; Universiti Putra Malaysia (UPM); Kasetsart University (KU) in Thailand; and University of the Philippines Los Baños (UPLB). Its associate members are University of British Columbia (UBC) in Canada; University of Queensland (UQ) in Australia; the Georg-August University of Goettingen (GAUG) in Germany, and Tokyo University of Agriculture (TUA) in Japan. SEARCA initiated the establishment of the UC and is the seat of the UC Secretariat. (Contributed by E.C.Cedicol)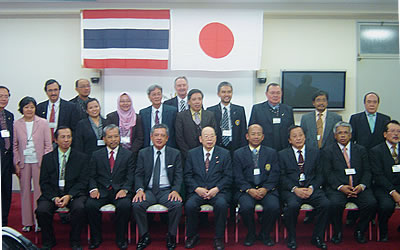 11